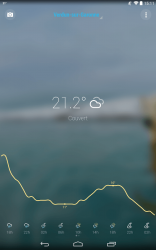 Due to climate change, more and more people rely on weather forecasts. Come to think of it, you'll never know what lies ahead. Today might be sunny but what about tomorrow? What if there's a coming typhoon and strong thunderstorms? In such cases, you shouldn't just rely on your instinct. There are apps that can help you keep track of the weather. One good example of this is Bright Weather.
What Is It and What Does It Do
Main Functionality
Bright Weather is a free yet comprehensive weather app for Android tablets and smartphones. This app flaunts a rich and fluid user interface wherein you can view its detailed weather report. Moreover, this app is not just limited to giving you the latest weather forecasts. It also features an interactive weather radar map that shows the current temperature, moon phase, UV index, sunrise, sunset, wind velocity, humidity and precipitation.
That's not all. This app also flaunts a camera shortcut that you can use to instantly access your device camera. It also supports home screen widgets.
Pros
Rich and user-friendly interface
Comprehensive 24-hour weather forecast with customizable refresh interval
Includes detailed weather reports for the next seven days – night and day
Lets you keep track of the current weather condition, temperature, humidity, wind speed, precipitation, sunrise, sunset, UV index, moon phase, etc.
Dynamic background image (updates daily)
Integrated camera shortcut
Supports home screen widgets – available in two sizes (4×2, 4×1)
Provides direct access to Weather Underground's website for full weather forecast and reports
Configurable settings
Cons
None that I can think of except for the fact that its widget doesn't show the date, it only shows the time
Discussion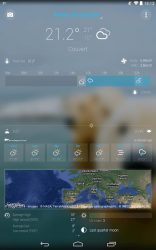 What sets Bright Weather apart from other free weather apps is that it can directly open your device camera. Yes, that's right. With this app, you can directly take a photo of your surroundings and share it online through email or social media. Apart from this, this app also flaunts an elegant and fluid user interface with a background image that changes daily.
Another notable feature of this app is its detailed weather forecast. With Bright Weather, you do not only get to know if today's weather will be sunny or rainy, you will also get to know other important details such as the current temperature, humidity, wind speed, sunrise, sunset, moon phase, UV index, rainfall, etc. You also get to view its interactive weather radar map. Just like other weather apps, Bright Weather also shows the weather forecast for the next seven days so you're always informed ahead of time. This, of course, gives you the chance to prepare if ever there's a possibility for the weather to go awry.
When I tried Bright Weather, what caught my attention first was its neat and elegant user interface. It basically flaunts two screens that you can swipe back and forth. The first screen shows its 24-hour weather forecast while the second screen shows the rest of the app's comprehensive detailed weather report. You can also see the camera shortcut icon at the top-left corner of the app's user interface.
When using this app, you will also be able to manually set your location. This option comes in handy especially if you don't want to activate your GPS. Other than this, you can easily set the app to show you the weather of another place or city other than your current location.
All in all, Bright Weather appears to be a very good weather app. It is stable, accurate, responsive and user-friendly. Simply put, it is a well-balanced app. It doesn't compromise its overall functionality over its UI design. The same goes for its home screen widgets. It's just that it could have been much better if its widgets would also show the current day and date and not just the time.
Conclusion and Download Link
If you are currently seeking for an elegant-looking and reliable weather app, I would suggest that you try using Bright Weather for Android. It has almost all of the essential elements that you need for monitoring the weather. With the help of this app, you can effectively plan your tasks or activities for the week. You'll even have the chance to prepare just in case the weather goes awry.
Price: Free
Version reviewed: 1.02
Requires: Android 4.0 and up
Download size: 3.2MB
Related Posts