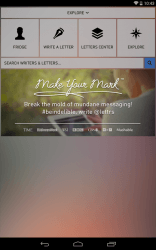 The rise of social messaging apps has paved way for new forms of communication. Nowadays, people from different walks of life can easily mingle with each other. In just a few clicks, you can easily send an instant message to your friend overseas. It's truly convenient. However, this has also caused more people to pay less attention to writing meaningful and heartfelt letters. Speaking of which, this is what the "lettrs" app is trying to overcome.
What Is It and What Does It Do
Main Functionality
Lettrs, stylized as lettrs, in a free social messaging app that lets you write and send thoughtful, heartfelt and beautifully written letters. Through this app, you can convey your feelings and thoughts through different kinds of letters – open letters, private letters and postal letters. You also get to customize your letters by choosing your favorite theme as well as by adding your own signature, photos and tags. With this app, you can also connect and mingle with people from all over the world. You can add them as "penpals" and view their "fridges" – a.k.a. their public profiles.
Pros
User-friendly, neat, stable and responsive UI
Lets you send digital letters and postal letters
Features a wide variety of themes with different backgrounds and fonts
You can add your custom signature
Supports photo attachments, geo-tags and tags
Supports real-time translation
You can share your letters to Facebook, Twitter, LinkedIn, Instagram, etc.
Has its own community where you can discover new users and add them as "penpals"
Cons
None that I can think of except for its lack of options for account notifications
Discussion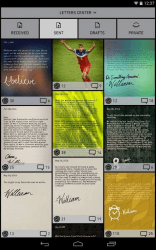 With lettrs, there are a few things that you need to remember. First, it's a social messaging app that's purposely meant for writing, reading, sending and sharing letters. With this app, you can create three types of letters and these are as follows:
Open letters – digital letters that you can share publicly (open for everyone)
Private letters – digital letters that only your recipients can see
Postal letters – a postmail letter that is delivered to anyone with a physical address (*requires theme and postage fees)
Second, you can connect with other users on the lettrs community by adding them as "penpals". The concept is similar to adding friends on Facebook but here in lettrs, you get to call your friends as penpals.
Third, you get your own public profile where you can post all of your open letters. Your public profile is known as your "fridge". Fourth, you can read and search for open letters using the "Explore" tab. You can also show your appreciation for each letter by leaving an impression (similar to "like") as well as posting a comment. Fifth, you can customize your digital and postal letters by choosing your preferred themes. You can also add or insert images to your letters and organize them using tags and geo-tags.
To make it even more personal, you can also affix your own signature at the bottom part of your letter. Just keep in mind that the themes for digital letters do not cost anything but if you opt to send a postal letter, then you will be asked to pay for the theme. The cost for each theme usually varies. As of its current version, the app's most affordable postal letter theme costs around two dollars.
All in all, I can say that lettrs offers a new and interesting way to write and send thoughtful and meaningful letters. It also flaunts an elegant and smooth user interface. It's a great way to discover new people as well as for sending heartfelt digital letters and postal letters to your friends and significant others. I really don't have any serious issues with this app except for the fact that it needs to add more options for device/account notifications. Speaking of which, you won't get any device notifications for every new letter that you receive.
Conclusion and Download Link
I like lettrs. It is a bit different from today's major social messaging apps (ex. Facebook, Instagram) but that's what makes it stand out. By writing letters, it lets you focus more on meaningful conversations. It also flaunts a bunch of good features. Plus, its user interface looks pretty neat and elegant. So if you still haven't tried it yet, I would highly recommend that you check it out.
Price: Free
Version reviewed: 1.0.16
Requires: Android 4.0 and up
Download size: 21MB
Related Posts