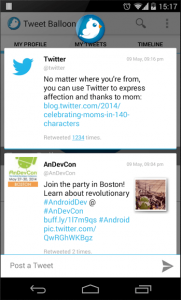 Thanks to third-party apps, you can do almost anything that you want with Android. You can change your home screen and lock screen theme, quickly reply to messages via floating chat heads and a whole lot more. Speaking of which, Tweet Balloon is a free app that you can use to tweet and view your Twitter timeline while doing other tasks on your Android tablet or smartphone.
What Is It and What Does It Do
Main Functionality
Tweet Balloon is a free application for Android that is designed to provide you with a useful and non-obtrusive way of updating and managing your Twitter account. Just like what its name suggests, this app takes on the revolutionary style of using chat heads. Simply put, this app will place a small floating balloon on your home screen. You can drag the balloon anywhere and in just a single tap, it will show the latest tweets from your Twitter feed. You can also use the balloon to directly post a tweet.
Since the balloon floats on your home screen, you are free to do other things. You can even watch videos, play games or read your favorite comic.
Pros
Easy to use
Non-obtrusive
Configurable user settings
You can add multiple accounts
You can tweet directly from your home screen
The Twitter balloon floats freely on your home screen – you can drag it anywhere but it won't interfere with your other activities
Cons
You cannot change the style and opacity of your Twitter balloon
You cannot place multiple balloons on your home screen
You cannot resize the overlay window that shows your Twitter feed
Discussion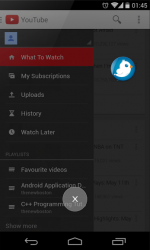 The way how the Tweet Balloon app works is quite simple. Upon installing the app on your device, just open or launch it from your app drawer. After which, you will need to link the app to your Twitter account so you'll need to log-in to its authentication page using your Twitter credentials.
Once you're successfully logged in, you'll see the app's main interface. The main interface is where you can view your active Twitter account's profile, Direct Messages, tweets, mentions and timeline. To enable the app's floating balloon feature, just go to your timeline tab and on the top-right corner of your screen, press the "Balloon" button. This will prompt the app to show a floating balloon for your active Twitter account.
Moving on, the floating balloon will stay on your home screen. When not in use, it will remain hidden on the side of your screen so it won't interfere with your other activities. If you tap on it, the balloon will open as an overlay window where you can view the latest tweets from your Twitter feed. You will also notice a small section where you can directly post your tweets. To close the overlay window, just tap the balloon again and you will be immediately taken back to your home screen.
Functionality wise, Tweet Balloon works pretty fine and it's great for multitasking. However, do keep in mind that while you can add multiple accounts, you still aren't allowed to place multiple tweet balloons on your home screen. You can only add a balloon for your active account. So let's say that you switched from Twitter account 1 to account 2, the balloon for your first account will be automatically closed as soon as you switch to your second account.
It's also important to note that this app doesn't provide customization options for your balloon. The same goes for your overlay window. You cannot resize it or even change its style. With regards to this, the customization options can only be applied to the app's main interface. On the brighter side, you're free to change the theme of the main interface from Holo Light to Smoke, Holo Dark or Holo Light with Dark Bar.
Conclusion and Download Link
If you don't mind the fact that you can only use one tweet balloon at a time, then I would recommend that you try using Tweet Balloon for Android. It's a great option especially if you want to multitask. The app itself may still need a few more tweaks but it's stable and responsive enough for you to use on a daily basis. With the help of this app, you can watch a show or movie on your tablet and immediately update your followers via live tweets.
Price: Free
Version reviewed: 1.1.2
Requires: Android 4.0 and up
Download size: 2.2MB
Related Posts