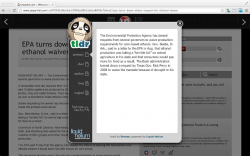 Have you ever stumbled upon an article or post that seems to be too lengthy for you to read? While this may not be a problem for others, some people may feel too lazy to read the entire post. Now, what if I tell you that there's a simple way to summarize any lengthy article or post? That's right. What's even more interesting is that you can do it by simply using a free Chrome extension called TLDR.
What is it and what does it do
Main Functionality
TLDR basically stands for "too long, didn't read". It is a free browser extension for Chrome that offers a hassle-free and efficient way for you to summarize the content of any web page, online article or blog post. Anyways, what TLDR does is that automatically creates a condensed version of any page or post in four different formats – summary, short, medium and long. All that's left for you to do is to visit the page that you want summarize or simply highlight the paragraphs that you want to sum up.
Pros
Free to use, easy to install
Flaunts a simple, neat and user-friendly overlay UI – preserves the original structure of your post or article
Fast, stable and responsive
Customizable settings
Automatically provides a condensed or summarized version of any article, web page or post
You can define or highlight any part of the text that you want to summarize
Cons
Lacks support for other browsers and platforms
It would be nice if it could also offer more themes/styles for its overlay reading interface
Discussion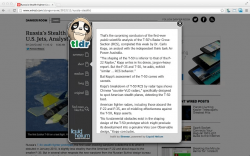 With a free Chrome extension like TLDR, you can instantly get the gist of the story without having to go through all the details. It's fully automated so it's quite convenient to use especially if you do not have enough time to read the entire post or article. Furthermore, this extension is powered by Liquid Helium – "a language analysis engine that converts written content into mathematical values and algorithms".
Anyways, when using a tool like TLDR, you'll definitely wonder as to whether it can really give accurate summaries of the content that you're supposed to read. Considering the fact that it uses a technology that doesn't rely on manual review or editing, I have to say that it fares well but it still has a long way to go before it can fully give a more "human-like" feel to its summaries/condensed versions.
Nonetheless, TLDR can quickly generate summaries of long posts so it helps saves time and effort. It is also capable of providing summaries that are easy to understand and direct to the point. It should also be noted that this extension can provide a condensed version of any post or article in four different formats. So aside from the summary, you can also refer to the short, medium and long versions of the original post. Speaking of which, summaries usually consists of 350 words or above while the condensed versions are usually 25 percent to 75 percent shorter than the original post.
Functionality wise, TLDR for Chrome is quite easy to use. It's a non-obtrusive tool. Once installed, the app will automatically incorporate itself to your browser's context menu. So whenever you don't feel like reading the full version of the text, just right-click on the page that you want to summarize then select the "Less words, please!" option. Alternatively, you can just click on the TLDR button on your browser's omnibar then wait for the overlay window to load.
All in all, this extension for Chrome serves as a handy tool for users who often rely on the web to explore and gather information. It's just that right now, it still lacks support for other browsers and platforms. Apart from this, the extension's overlay window looks okay but it could have been much better if it users could customize the extension's overlay window layout or style.
Conclusion and download link
TLDR for Chrome is worth a try. It's a handy reading and research aid especially if your browser of choice is Google Chrome. It is also capable of providing summaries that are concise and sensible. Of course, it is still far from perfect but it can definitely benefit you in many ways. Like, for example, when you're doing web research. You can use this tool to get the overview of the articles and posts that you want to share or bookmark.
Price: Free

Version reviewed: 2.1.1

Requires: Chrome on Windows XP, Vista, 7, 8, Linux and Mac OS X

Related Posts