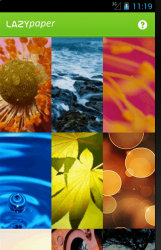 By simply choosing a good home screen wallpaper, you can make your Android smartphone or tablet look more modern and elegant. It's just that finding and collecting wallpapers for your device could take some time. Plus, you cannot automatically set them up just like the way that you do with your desktop's rotating wallpapers. If you wish to do such thing, you'll need an app like LAZYpaper.
What Is It and What Does It Do
Main Functionality
LAZYpaper is a free Android HD wallpapers app that basically functions as a wallpaper aggregator and automatic background image changer. Unlike other wallpaper apps, LAZYpaper does not host or own any wallpapers. Instead, it collects various HD wallpapers from third-party websites so all that's left for you to do is to select and download the ones that you like. Apart from this, this simple wallpaper app also allows you set or change your wallpapers automatically. This way, you can easily set your home screen to show a different background image every minute, every hour or even after thirty seconds.
Pros
Easy to use
Features a wide collection of high-quality wallpapers from third-party sites
For better wallpaper suggestions, the app has been set to automatically detect the screen resolution of your device
Wallpaper rotation – if enabled, your home screen wallpaper will change automatically; no need for you to manually set it up
Supports wallpaper sharing and gesture-controlled navigation
Cons
Still needs improvement in various aspects – ex. users cannot select and download wallpapers by category or tag
The number of wallpapers that are available for high-res devices are limited
A user cannot change or update the app's settings
Discussion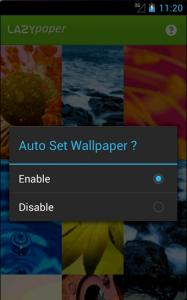 To use and enable LAZYpaper on your Android device, you simply need to open it from your app drawer. After which, the app will prompt you to select at least five wallpapers so that it could update its collection based on the type of wallpapers that you like. Anyways, you're free to choose more than five wallpapers. Just don't forget to confirm your selection once you're done.
After which, the app will automatically take you to its HD wallpapers collection. The good thing about this app is that it will automatically detect your phone or tablet's default screen resolution. Thus, you can easily find a wallpaper or background image that would best fit your home screen. No need to crop. No need to resize. Just select the wallpaper that you want then click the download button.
Once downloaded, you will be prompted to enter the time that you wish for your wallpaper to automatically change. If you want, you can set your Android home screen wallpaper to change every minute, every hour or every thirty seconds. If you want to set a fixed background image, just select "never". Once you've made your selection, the changes will be automatically applied to your device. All that's left for you to do is to view and enjoy your new home screen wallpapers.
Functionality wise, LAZYpaper for Android is very easy to use. It's also stable and responsive. However, I did notice that it lacks proper organization for its wallpapers. With regards to this, it will just show you a random list of wallpapers from various sources so you cannot easily narrow down your search. You cannot limit your search to a specific category. I also noticed that it only shows a limited number of HD wallpapers for high-resolution devices (ex. tablets).
Aside from this, the current version of the app does not allow its users to change, update or reset its settings. I find this quite bothersome since it offers no easy way to change the wallpaper's auto-refresh interval. If you want to reset your wallpaper's auto-refresh rate, you'll need to uninstall/re-install it first then make sure to clear its cache.
Conclusion and Download Link
What LAZYpaper offers is a simple and straightforward way for you to update or change your home screen wallpaper. It is also good to know that this app can automatically update your wallpaper without manual intervention. It's just that there are still a lot of aspects where it appears to fall short. It's also more suitable for smartphones. Even so, it won't cost you anything to give this app a try. As for those who are looking for a better alternative, you can always go for 500Firepaper or Bitmado.
Price: Free
Version reviewed: 1.0.7
Requires: Android 2.3.3 and up
Download size: 14MB
Related Posts