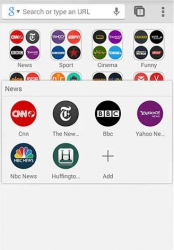 If you go to the Play Store, you'll find a lot of free mobile browsers that offers various kinds of features such as fast and smooth web browsing, tabs and a whole lot more. One good example of this is Tably Browser, but what makes this browser a tad bit different is that it flaunts its own unique way of organizing your favorite sites and blogs.
What Is It and What Does It Do
Main Functionality
Tably Browser is a free mobile browser for Android tablets and smartphones. Compared to other browsers, this browser lets you access, bookmark and organize your favorite sites as soon as you view your home screen. Other than this, Tably Browser also supports tabbed browsing plus it has an integrated QR code reader. It's basically designed for effortless web browsing.
Pros
Easy to use
Fast, stable and responsive
Features an advanced user interface that supports tabbed browsing
Has an integrated QR code reader
Simple yet practical gesture controls – lets you access your browsing history by simply pulling the right side of your screen
Supports incognito or private browsing
Lets you search through Google, Bing, Yahoo and YouTube thru its address bar
Organizes your favorite sites and bookmarks in folders
Cons
Lacks options for importing bookmarks, text scaling, blocking pop-ups, auto-translate, clearing browsing data, etc.
There's no option for disabling JavaScript
Discussion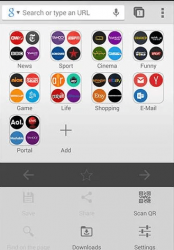 Tably Browser is basically intended for simple, fast and effortless web browsing. It may not be as advanced as Chrome for Android but it has its own set of features that it can surely be proud of.
Just like other browsers, Tably supports tabbed browsing and you can also opt to browse privately through its private browsing mode. Anyways, the main highlight of this browser is unique user interface that lets you access, bookmark and organize sites through folders. That's not all. No matter what tab you open, all of your bookmarked sites will be shown right then and there. This makes it easier for you to access your most visited sites without having to go through your bookmarks window.
By default, Tably Browser has already collected and organized a variety of useful sites for your browsing convenience. All that's left for you is to browse, modify or edit these sites according to your personal preference.
Another notable feature of this browser is its integrated QR code reader. Nowadays, QR codes are widely used to access various links and sites without typing the entire URL. It's just that most browsers do not have a built-in QR code reader but with Tably, there's no need for you to download one. All you need to do is to access its Menu Screen and select the option for "scan QR". Speaking of which, the Menu Screen also flaunts more useful options like share, save, find on page and view downloads. It is also where you can access the browser's main settings page just in case you wish to change or update your browser's default search engine, default country, proxy and user agent.
All in all, I can say that Tably Browser functions really well. It's fast, stable and responsive. Plus, it flaunts a user-friendly interface that lets you bookmark and organize your favorite sites with ease. I also like the fact that it supports private browsing. However, I find it somewhat lacking in certain aspects since it doesn't have options for importing bookmarks, blocking pop-ups and text scaling. There's also no way for you to disable the browser's JavaScript. There's also no option for clearing browsing data but it does flaunt an easy way for deleting your browsing history. However, clearing your browsing history may not be enough especially if you want to clear the search keywords that you've previously used as well as your usernames and passwords.
Conclusion and Download Link
Tably Browser offers a convenient way for users to access, bookmark and organize their sites and links. Just like other browsers, Tably has its own set of advantages and disadvantages. It may be suited for users who want a hassle-free way to access their bookmarked sites but it may not appeal to those who are very cautious about their browsing activity. Even so, this doesn't make Tably worth any less. So go ahead and check it out.
Price: Free
Version reviewed: 1.1.0
Requires: Android 2.2 and up
Download size: 4.2MB
Related Posts