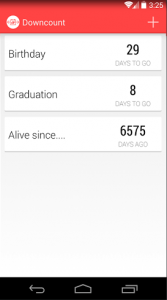 Are you the type of person who always looks forward to attending or organizing various events? Like, for example, the upcoming birthday of your favorite nephew or the day that you will finally say "I do". If yes, then a simple countdown timer app like Downcount can definitely help you.
What Is It and What Does It Do
Main Functionality
Downcount is a simple countdown timer app that supports home screen and lock screen widgets. With the help of this app, you can easily keep track of the days that matters. So whether it's a simple holiday gathering or a major event such as weddings and graduations, you can definitely rely on this app to count down the days left until your next big event. Furthermore, it's especially useful for counting down the days left before the holiday season.
Pros
Free, easy to use
None obtrusive
Flaunts a neat, stable and responsive user interface
You can set countdown timers of any length
Supports home screen and lock screen widgets
Easy swipe gesture controls – To delete a countdown, just swipe the countdown timer strip to the left or right portion of your screen. To edit a countdown, just press and hold it then update its label.
Cons
Lacks support for notification tones
You cannot set the exact time for the event
Widgets needs to offer more themes and sizes
Lacks support for calendar integration
Discussion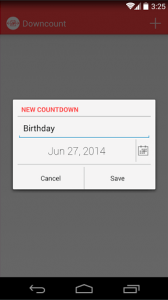 Countdown timers are highly useful since they help you keep track of important dates and events. Come to think of it, everyone has their own special dates that they want to commemorate or celebrate. It's just that there is still a tendency for these days to be forgotten especially if you're too busy to make ends meet. So if you have a countdown timer, you will be constantly reminded of that special day. Thus, you'll have more time to plan and prepare.
As for Downcount, it is basically a simple app for Android that you can use to create countdown timers of all sorts. As simple as it is, you don't need to do anything except to set a date and a label for your important event. After that, just let the app do its work. There are also no restrictions to the dates that you can set. It could be an event that you always look forward to or an event of the past.
Just like other countdown timers, this app will count down the remaining days left until the day of the actual event. If it's an event of the past, the app will also count down the days that have already passed. The only major downside of this app is that you can only set the date and not the exact time for that event.
On the other hand, Downcount flaunts a simple and straightforward interface. Apart from its "create new countdown timer" option, it doesn't have any other options. The same goes for its widgets. However, it does feature some basic gesture controls for updating or deleting your countdown timers.
Apart from this, the app doesn't flaunt any extra themes. You also won't be able to sort out your countdown timers by labels. In addition, this app also lacks support for notification tones. It also won't allow you to integrate or import the events from your calendar. It could have been much better if all of these features are present but right now, you cannot really expect the app to go beyond its basic functionalities.
All in all, I like Downcount mainly because it's simple and practical. It may not have much to offer but that's exactly why it's good. Besides, it does its job well. It's just that it could still be improved in many ways without losing its sense of simplicity. After all, there's no harm in adding a few more useful features like custom notification tones and more widget themes and sizes.
Conclusion and Download Link
Downcount for Android may appear plain and simple but don't let that discourage you. As a matter of fact, this app is far more useful than what you think. You can even use it together with your alarm clock and event management apps. So if you're only looking for a simple and reliable tool to help you count down the days before Thanksgiving Day and Christmas, go ahead and check it out.
Price: Free
Version reviewed: 1.1.1
Requires: Android 4.1 and up
Download size: 3.2MB
Related Posts