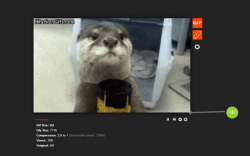 GIFs are fun and interesting but it could take a while before they load. Furthermore, a GIF has very limited options. You cannot slow it down, speed it up or even play it in reverse. Now, if you're already fed up with your slow-loading GIFs, it would be best for you to try this cool web app called Gfycat.
What is it and what does it do
Main Functionality
Gfycat is a free web app where you can host your GIFs. However, it is not like your usual image hosting service since it is also designed to automatically convert your GIFs into "gfy".
A "gfy" is basically a short, looped and soundless video moment that includes GIF as one of its integrated formats. In short, it's like a hybrid GIF with advanced features that can be compared to that of a video file. You can also say that it's like a GIF and a video clip in one. With Gfycat, you can make your slow-loading GIFs load faster. You can also incorporate some nifty features to your animated image like pause, increase playback speed, decrease playback speed, load individual frames and reverse playback.
Pros
Free to use, user registration is optional
Offers fast and simple GIF hosting with no restrictions in file size
You can create a "GFY" in two easy ways – upload a GIF directly from your computer or fetch a video/GIF URL from any site (ex. Youtube, Vimeo, LiveLeak, etc.)
Uses HTML5 video conversion to convert your GIFs to GFY
Features advanced playback options – repeat, rewind, fast forward, pause, loop, step frame by frame, etc.
Features two viewing modes – night mode and daytime
You can share or embed your file as GFY or GIF
You can download the file as .webm or .gif
Cons
The web app can only fetch up to 15s of video
The GFY file may not work properly on some browsers (ex. browsers that don't support HTML5, etc.)
Discussion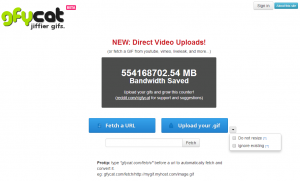 There are two ways to use Gfycat. First, you could opt to fetch a GIF or video from a direct URL. Second, you could directly upload a GIF from your computer. Regardless of which method you choose, the outcome is still the same. You will basically get a GFY ("gfy").
As I've already mentioned above, a GFY (aka. GIF Format Yoker) is a short, looped and soundless video moment. It's basically an HTML5 video and at the same time, a GIF. This way, you get the best of both worlds. With an HTML5 video, your media will load faster plus you get all the nifty features that you cannot get from loading a plain GIF. It's just that a GFY may not work properly on other web browsers (ex. mobile browsers, browsers that don't support HTML5, etc.). In such cases, you get the option to load it as GIF.
Compared to loading just a video file or a plain animated image, hosting your GIF in Gfycat can benefit you in many ways. Besides, the web app flaunts a no-frills method of hosting and converting your GIF. It bridges the gap between two media formats so there's no need for you to choose one over the other. Apart from this, you can also share or embed the media that you've generated from Gfycat to various sites, blogs and social networks.
Needless to say, a GFY is great for sharing short, looped and soundless animations to sites like Reddit and Tumblr. There's also no limit to the size of the file that you want to upload. It's just that if you are fetching the video file from a direct URL (ex. YouTube, Vimeo), you are only allowed to fetch up to 15 seconds of video.
All in all, I can say that Gfycat is a pretty cool and interesting web app. It's also fast, stable and responsive. Compared to other GIF generators, its concept and functionality is quite unique yet also very practical. Come to think of it, instead of choosing between a GIF or video, you can get both without any hassle. So why go through all the trouble of converting your GIF to video or vice versa when there's a simple tool that you can use whenever you want? You don't even need to sign-up or register.
Conclusion and download link
Gfycat serves as a really good option for users who are fond of downloading and sharing GIFs online. It's also very easy to use plus user registration isn't required. You can also download the file to your computer as WEBM or GIF. That way, you can still view it even if you don't have Internet access. Anyways, here's a sample of a "gfy" that you can generate from this web app. So go ahead and give it a try.
Price: Free

Version reviewed: Beta

Requires: Works on any web browser (Chrome, Firefox, Safari, Opera, IE, etc.)

Related Posts