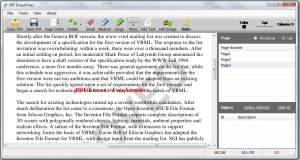 A file or document in PDF format can be easily viewed without requiring a particular type of software or application. As a matter of fact, you can view it directly on your web browser. It's just that there's also a downside to sharing such type of file since it cannot be easily edited. In order to edit a PDF file, you'll need a specific tool like PDF Eraser.
What Is It and What Does It Do
Main Functionality
PDF Eraser is a free Windows application that you can use to perform various editing tasks to any PDF file or document. Simply put, it can edit or modify a PDF file thru the following actions:
cut or delete pages
insert text or images
erase images, logos and text
rotate a page in a 90 or 180 degree angle (clockwise and counterclockwise)
Apart from this, this simple PDF editor can also undo your actions. It can be very handy especially if the file that you want to edit is an application or registration form.
Pros
Easy to use, easy to install
Stable, responsive and user-friendly interface
Has a built-in page cutter
Can erase or add new elements to your PDF page
Features a variety of tools and options that will help you update or modify your file or document
Features an "undo" tool so you can easily correct your mistakes
Cons
The said tool will add a watermark to your output document – you can only delete this watermark if you upgrade to Pro
There's no way to edit the text that you've already added
There's no "Preview" option
Discussion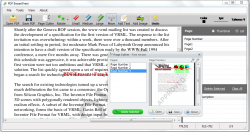 PDF Eraser is a simple and straightforward tool for Windows that you can use to cut off pages or insert objects to your PDF documents. It can process .pdf (.PDF) files with ease as it offers various tools that you can utilize to modify or update your PDFs.
As for its user interface, this tool appears to be very stable and responsive. Its tools are also large enough for you to recognize and it really won't take too long for you to get yourself accustomed to the way how this tool works.
Speaking of which, PDF Eraser can be quite handy especially when you're handling PDFs that needs to be frequently modified or updated such as invitation templates and registration forms.
To use this tool, simply choose a tool from its top menu (ex. Page Cutter, Add Text, etc.) then select the page and area that you want to edit. After that, click "Save PDF" to save your changes. It's just that there's a major drawback to using the free version of PDF Eraser. Whenever you save an edited document, the tool will insert a watermark to every page. Not only that, the watermark is also quite visible and it also covers up some important sections of your document. This can be quite bothersome especially if you're looking forward to using this tool to edit or update your school or work documents.
Apart from this, I also noticed that PDF Eraser doesn't have any "Preview" option so you cannot preview the edited document right before you save it to your computer. It also lacks the option to edit the text that you've previously inserted, but it does have an undo tool which you can use to delete a specific action that you've made while editing your PDF.
All in all, I can say that this free PDF editor for Windows is a very decent tool. It's just that it is more suited for casual use since it deliberately adds a watermark to your edited pages. Functionality wise, it is stable and responsive. I also did not encounter any serious issues while using this tool. It didn't lag or crash plus there were no annoying errors or glitches.
Conclusion and Download Link
PDF Eraser is just a basic tool that you can use to make simple updates or modifications to your PDF documents. However, if you're looking for a more advanced tool that can help you edit and manage your PDFs on a regular basis for business or work purposes, this tool isn't for you. On the brighter side, it's very suitable for casual use so you can use it extract pages from manuals and e-books. You can also use this tool to quickly modify an erroneous PDF document. So go ahead and check it out.
Price: Free
Version reviewed: 1.0.3
Supported OS: Windows XP, 2000, 2003, Vista, 7 and 8
Download size: 27.7MB
VirusTotal malware scan results: 0/51
Is it portable? No
Related Posts