Floating apps are great because they allow you to perform multiple tasks at once. As for Link Bubble, it can load any web page while you're using another app. So instead of wasting your time waiting for the page to load on your browser, you can multitask and make the most out of your Android experience. Anyways, let's find out if this app can really live up to your expectations.
What Is It and What Does It Do
Main Functionality
Link Bubble is a floating browser app that you can use on your Android tablet or smartphone. It is basically designed to intercept all links from your apps and load them through its integrated floating browser. Thus, you can browse Facebook or watch a video while waiting for the page to load. Once it's fully loaded, you can just click on the floating bubble to view the page then click it again to resume to your current activity. You can also use this app to directly share the link or page to your contacts via Bluetooth, email, SNS, etc.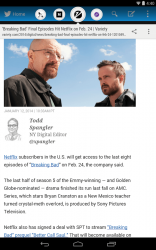 Pros
Fast loading, easy to use
Stable and responsive
Efficiently loads a link or page in the background
Non-obtrusive – just drag and place the floating bubble anywhere on your phone or tablet screen, you can also delete it once you're done viewing the page that you want
Built-in sharing options – you can directly share any link or page via Bluetooth, email, Facebook, Skype, SMS, Twitter, etc.
You can copy the link to the page directly to your clipboard
You can opt to close and re-open the loaded page on another browser (ex. Chrome)
Customizable user settings – you can even set the browser in Incognito Mode
Cons
The free version of the app can only load one page at a time
The app's built-in browser has certain limitations – For example, it does not allow you to manually type a URL. You cannot also copy the text in the page or save any image/photo to your device.
Discussion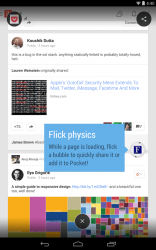 To start using Link Bubble, you must set it first as your default browser. You can do this by opening the app from your app drawer and then you go to its "Settings" to set your default system browser.
After which, you configure the rest of the app's options according to your liking. Once you're done, just close the app and open another app (ex. YouTube, Twitter, etc.). So let's say that you've chosen to open your Twitter app. For Link Bubble to work, all you need to do is to click any link from Twitter. Right after you click a link, a floating bubble will appear and it will show whether the page where that link points to has been fully loaded or not.
Once the page has been successfully loaded, you can notice that the bubble's rotating marker will stop so just click on the bubble to view the page. If you want, you can also share the page directly to your contacts via Bluetooth, email, social media, etc. You can also copy the link to your clipboard or re-open the page using another browser. Once you're done viewing the page, just click the bubble again to close it and repeat the same step whenever you want to open a new link.
The good thing about Link Bubble is that it lets you browse the web while using another app. It's great for multitasking. It can also load any page within just a matter of seconds plus it's stable and responsive.
Just take note that the app's free version can only load one link at a time. If you want to load multiple links, you must upgrade to Pro. Apart from this, the app's integrated browser also has limitations. It's mainly intended for quick viewing so you can't use it to copy texts, open new URLs, etc. You can't even use it to download and save photos. Even so, you can always opt to re-open the page on another browser.
Anyways, I find this app really easy to use. While I was using it, it didn't crash or cause any annoying glitches or errors. It's a great alternative for users who wish to quickly open and view the links that they find while browsing content on YouTube, Instagram, Facebook, Twitter, etc.
Conclusion and Download Link
Link Bubble is a reliable multitasking app. It helps you browse with ease while doing another task. Furthermore, you don't really need to upgrade to its Pro version just to enjoy its core features. So why don't you go ahead and give it a try? If you want a good alternative, you can also try Flynx for Android.
Price: Free, Pro – $2.49
Version reviewed: 1.2.1
Requires: Android 4.1 and up
Download size: 2.1MB
Related Posts