The new look Firefox 29 is more comparable to Google Chrome. It also has more customization options than previous versions of the browser. With Firefox's customization options, you customize its toolbar by dragging icons to and from the toolbar.
Click on the Open Menu button at the top right of the Firefox 29 browser, and then select Customize. That opens the additional tools in the shot below. From there you can drag icons across to spare slots on the toolbar by left-clicking them. Left-click on a tool, hold the mouse button and drag the tool onto the toolbar.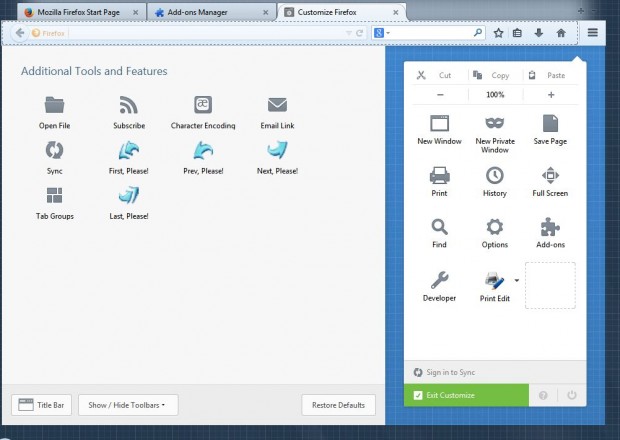 There are a fairly limited number of default tools to select from. However, you can add many more with the Toolbar Buttons add-on. Go to this page, and click on the + Add to Firefox button to install it.
Then restart Firefox, click on the Open Menu button and Customize. Now you can choose from a wider variety of tools for the toolbar as in the shot below. Among the tools is a the Firefox orange app button which you can move back to the top left of the browser window.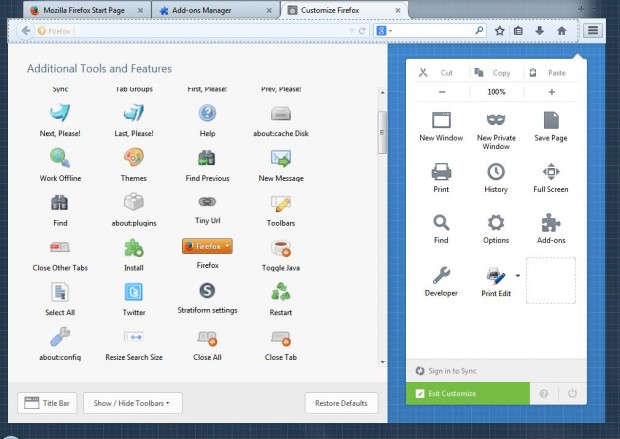 Click on the Show/Hide Toolbar and select Menu Bar to add a menu bars to the top of the window. To add a bookmark bar, click on Bookmarks Toolbar. In addition, you can add a title bar to the top of the browser by clicking the Title Bar option. Select the Exit Customise option to return to the browser.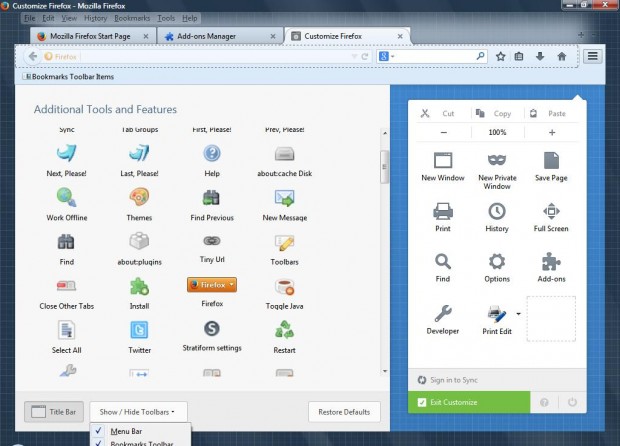 With these options, and the Toolbar Buttons add-on, you can add plenty of extra tools to the Firefox 29 toolbar. Or you can remove toolbar buttons instead. The Toolbar Buttons pack is also available for the Sunbird and Thunderbird browsers.
Related Posts