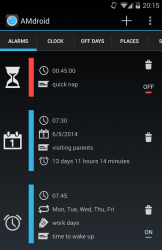 If you've already tried dozens of alarm clock apps and yet, you're still finding it very difficult to wake up on time, perhaps AMdroid can help. Compared to other free alarm clocks, this app features a wide range of features like dismiss alarm challenges, post alarm confirmations, etc.
What Is It and What Does It Do
Main Functionality
AMdroid is a free alarm clock app for Android. What makes this app different from other alarm clock apps is that it offers a wide range of features that you can use to set up and manage your alarms. With AMdroid, you can set up one-time alarms, recurring alarms and even countdown alarms. You can also assign different profiles to your alarms. Furthermore, this neat-looking and straightforward app can help track and calculate your sleep and wake cycles.
Speaking of which, the said app flaunts the following features and options:
Fully customizable alarm profiles – recurring alarms, one-time alarms, countdown alarms
Off days – automatically turn off your alarms during public holidays and off days
Dismiss alarm challenges – simple tap to dismiss, captcha challenge, math challenge and WiFi challenge
Post alarm confirmations and pre alarms
Auto timer – dismiss or snooze your alarms after a specific period of time
Weather information
Statistics and Sleep Mode
Custom alarm sound notifications
Pros
Easy to use, easy to configure
Features different alarm profiles for one-time alarms, recurring alarms and countdown alarms
Neat, stable and responsive UI with minimalist design
Advanced features and options
You can set unlimited alarms
Non-obtrusive, you can also test your alarms to see if they function well
Cons
None that I can think of but it would be nice if the app could offer more UI themes (designs)
Some of the app's features are only available to its premium version
Discussion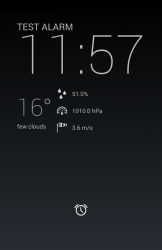 AMdroid flaunts a minimalist interface where each section is divided as tabs. As you can notice, this app consists of five main tabs. There's a tab for alarms, clock, off days, places and stats. Out of all tabs, only the "Places" tab isn't supported in the free version. It's also up to you to select the tab that you want to use as start screen. This is the screen that will greet you as soon as the app starts.
To create an alarm, you simply need to go to the app's "Alarms" tab then tap the button for "create new alarm". With AMdroid, you can set recurring alarms, one-time alarms and countdown alarms. Every alarm has an assigned profile so you can easily customize the settings for each alarm. If you want to delete an existing alarm, just press the trash icon. You can also set your off days to prevent the app from bothering you during those days that you're free from work.
In addition, this free alarm clock app also flaunts a total of three dismiss alarm challenges. You can opt to use these challenges to prevent yourself from accidentally turning off your alarms. Other than this, you can also set a pre alarm to wake you up ahead of time. To make sure that you're fully awake, you can also opt to enable the app's post alarm confirmation. This option will automatically send you a follow up confirmation a few minutes after your main alarm has been permanently turned off.
Functionality wise, what I like most about AMdroid is that it's feature-packed. Just like Puzzle Alarm Clock, this app also provides a wide range of dismiss alarm challenges that will prevent you from procrastinating. Therefore, you won't have any excuse. You will be obliged to solve the challenges or else the alarm will continue to make a sound.
All in all, I find this app very accurate and stable. It's also user-friendly. It won't take too long for you to fully understand how it works. When I tried it out, it worked well without any troublesome glitches or errors. I also like the fact that it's neat, responsive and non-obtrusive. It's just that its dark interface may not be visually appealing to all users. It would be nice if this app could add more themes or UI styles.
Conclusion and Download Link
If you're looking for a feature-packed alarm clock app that you can use on your Android tablet or smartphone, I would definitely suggest that you try using AMdroid. It's a great app that will definitely help you wake up on time. So go ahead and give it a try.
Price: Free, Premium (via in-app purchase)
Version reviewed: 0.98
Requires: Android 2.3 and up
Download size: 2.9MB
AMdroid – Smart Alarm Clock on Play Store
Related Posts