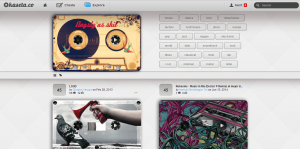 Nowadays, cassette tapes are already considered as old-fashioned. While there are still those who keep them as a form of memento, it would no longer be practical for one to use a cassette player just so they could listen to their favorite songs. Fortunately, there's Kaseta – a free web app that lets you relive your "cassette-playing" experience.
What is it and what does it do
Main Functionality
Kaseta is a free web app and music playlists sharing community that is open to all users. You can register in the web app's site for free. All you need to do is to login using your preferred social account (ex. Facebook, Google, Twitter, Instagram, etc.). With Kaseta, you can easily create all sorts of music playlists in the style of vintage cassettes (also known as "kasetes"). Furthermore, a "kasete" or kaseta can hold up to 90 minutes of playlist time which is already good enough for 10 to 30 audio tracks and videos.
Pros
User-friendly interface, free membership
Features its own user community for sharing "kasetes" – you can explore the community and listen to the cassettes that were published and shared by other users
Features a wide selection of cassette tape shell styles – you can also create your own shell style
You can easily create all sorts of cassette playlists from your favorite YouTube videos and SoundCloud songs
Customizable cassette playlists options
Built-in sharing options – you can share your kaseta's direct link to various social media sites, you can also embed it directly to your blog or website
Cons
You can't create a kaseta that has a combination of SoundCloud tracks and YouTube videos
You can't adjust the size of the cassette to make it a bit larger
Discussion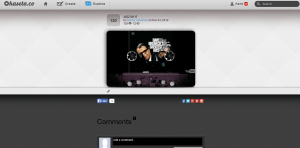 With Kaseta, there's no need for you to upload your own songs. Just find the song or audio track on YouTube or SoundCloud and paste the song's URL on your new or existing cassette (kasete). After which, set your cassette playlist to public or private, publish it and that's it, you're done.
For some, the lack of option for uploading their own songs may seem disappointing but still, you can opt to upload your songs directly to SoundCloud or YouTube. Anyways, I find this web app as a good alternative for sharing music playlists. So instead of just sharing the usual playlists that you've created from SoundCloud or YouTube, you can opt to share a more interesting playlist with a vintage-themed design.
Functionality wise, I don't really have any serious problems with this web app since it works great plus it flaunts a user-friendly, neat, stable and responsive user interface. It also features a lot of cassette shell designs. You can even customize the style of the cassette shell to make it look more unique and interesting. It's just that if you opt to make a kaseta out of your favorite YouTube videos, then you can't add songs or tracks from SoundCloud. The same goes for creating a kaseta out of your favorite SoundCloud songs. It should also be noted that you cannot resize the kaseta but you can update its content and even make it play on infinite loop. Just remember that a cassette playlist can only hold up to 90 minutes of videos and songs.
When playing a casette (aka "kasete"), the video for the current track will also be shown. As your cassette plays, you can toggle the playback controls. You can switch to the next track, go back to the previous track, view the full playlist, etc. If you want, you can also share the kaseta online via email, Facebook, Twitter, etc. You can even embed it to your blog or site. Just like YouTube, the kasetes that you create and publish on Kaseta can be liked or followed by others. You can also explore and listen to other kasetes by tags, likes, design or genre.
Conclusion and download link
The main highlight of this web app is its "vintage-style" cassette playlists. Plus, it has already established a community of avid users. It also flaunts a user-friendly music discovery platform wherein you can connect and socialize with others. So if ever you want to relive those good old days where you used to listen to songs through your cassette tapes, then go ahead and create your own music playlists at Kaseta. As for those who are using Chrome, this web app is also available on the Web Store.
Price: Free

Version reviewed: N/A

Requires: Works on any web browser (ex. Chrome, Firefox, Safari, Opera, etc.)

Related Posts