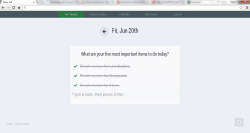 Task management apps are extremely useful especially if you want to get a clear outline of the things that needs to be done. Speaking of which, there are apps that helps you manage and keep track of your long-term goals while there are also those that focuses more on the tasks that you need to accomplish as soon as possible. As for Dayboard, it's a simple tool that you can use to list down your top five priorities for today, tomorrow and the day after.
What is it and what does it do
Main Functionality
Dayboard is a free extension for Chrome that you can use to convert your new tab page into a simple yet efficient to-do list. As a matter of fact, it's so simple that it will only allow you to list down up to five tasks. These tasks, however, must be the ones that you need to put your focus on. Thus, you get to spend your day trying to finish all of your important tasks while making room for those that you need to accomplish on the very next day and so on.
Pros
Easy to use
Simple and straightforward UI
Stable and responsive
Ideal for tasks and activities that don't have a fixed deadline
You can review the tasks that you've already accomplished in your activity history
Focus mode – if set, the extension will only show you one item or task at a time
Provides quick links that points to your apps and bookmarks
Cons
The placement for your daily tasks (to-do lists) are fixed, you cannot reorganize them without deleting any item
The background looks too plain – it would be nice if this tool would flaunt a soothing background image that would automatically change or update from time to time (ex. nature backgrounds, abstract backgrounds, etc.)
Discussion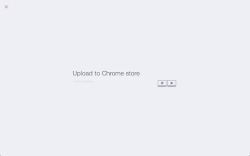 Needless to say, Dayboard flaunts a simple and straightforward UI. Once installed on your browser, the extension will automatically replace your browser's new tab page with its own. So the next time that you open a new tab, you will be asked to list down at least five items that you must accomplish within that day. Once you finish a task, you can check it off and replace it with another task. It's as easy as that.
With Dayboard, the tasks that you can list down are not time-bounded. This simply means that even if you miss doing a particular task within that day, you can still finish it on the next day. One good example of this is when you plan to clean up your room. It's important yet it's not something that you can consider as extremely urgent unless, of course, your room is already messy enough to be compared to a pile of trash.
Another notable feature of Dayboard is its "Focus Mode". While on focus mode, the extension will only show one task at a time. So whenever you open a new tab, you will be reminded of that of that one particular task that you still haven't accomplished. In other words, what this tool is trying to accomplish is for you to be able to develop the positive habit of getting things done even if it's just one task at a time. The way I see it, this extension is more applicable to those who are still in the early stages of developing their sense of focus and discipline. By doing so, you can gradually evolve and become more goal-oriented with a positive attitude towards your work and level of productivity.
Functionality wise, this extension doesn't have too much to offer but that is exactly why it's worth trying out. It is also ideal for tasks and activities that don't have a fixed deadline. Plus, it's stable and responsive enough for you to use on a regular basis. It's also important to note that this extension is still on beta so it could still be improved in many ways. It would also be great if its UI would support HD backgrounds that would randomly update from time to time. That way, you would feel more motivated to perform your daily activities.
Conclusion and download link
All in all, I find this tool a bit similar to Momentum but it appears that the latter is more refined. Nonetheless, this doesn't make this tool less useful. As a matter of fact, it would make a decent choice for those who are looking for a simple yet efficient productivity tool that they can view and access every time they open their browser's new tab. As for those who are interested in using this tool as a collaborative daily task management platform, Dayboard is also available as a standalone web application. So go ahead and check it out.
Price: Free

Version reviewed: 0.1.3 (Beta)

Requires: Chrome on Windows XP, Vista, 7, 8, Linux and Mac OS X

Related Posts