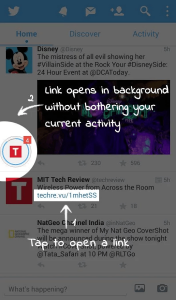 Speed and efficiency, these are two of the most important qualities that a mobile browser must possess. Now, what if I tell you that there's an app that lets you load up to four web pages at the same time while you're watching a YouTube video or having a video call with your contact on Skype? The app is called Flynx – a floating browser.
What Is It and What Does It Do
Main Functionality
Flynx is a fast and lightweight floating browser. It's a free app that is designed for Android smartphones and tablets. With this app, you can load up to four web pages in the background while you continue to use your current app. Say, for example, you're watching a video on YouTube and then you want to check out the link in its description. With Flynx, you can open the link and load the page in the background while you continue to watch the video.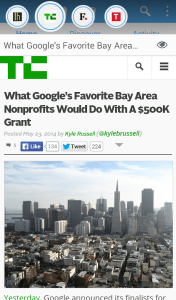 Pros
Fast and lightweight – it only takes a second or two to load a full web page
Flaunts a floating user interface – you can open links and load web pages as floating bubbles, you can also drag and move the bubbles to any portion of your screen
Can load up to four web pages at the same time
Features advanced options like Reload, Open in browser, share link, etc.
You can switch to "Reading Mode" and vice versa – the reading mode also flaunts two options – day view and night view plus you can adjust the size of the text to small, medium or large
You can review and manage your previously opened links in your browsing history
Cons
Since the app is still in beta, there are times wherein it fails to load the page properly especially when you prefer to load it in "Reading Mode".
All of the floating bubbles would disappear if ever you exceed the minimum number of links allowed.
You cannot adjust the size and opacity of the floating bubbles.
Discussion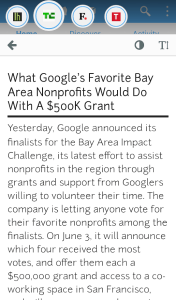 The way how Flynx works is quite simple. Once you've installed the app on your device, just launch it from your app drawer then refer to its new user guide. After which, just click the back button, go to the app's settings then select your secondary browser. Once you're done, go back to your device home screen and open any app that you want (ex. Twitter, YouTube, TweetCaster, Line, Instagram, etc.).
On the app that you're currently using, find a link then click on it. If you have multiple browsers installed on your device, you will be asked to open the link using the browser of your choice. If this is the case, the choose "Flynx". Thereafter, the link will open and load as a floating bubble.
You will know if the page is still loading because the bubble will be bordered by a blue ring. Since the app can open up to four links, you're still allowed to open up to three more links using the same method. Anyways, the good thing about this app is that you can load all of the links without leaving your current application. You can also drag and move the floating bubbles to a different location.
To view the pages that you've loaded in the bubbles, just tap a bubble and the page will be shown on top of your current app. While viewing the page, you can opt to reload it or view it using another browser. You can also opt to share the link to that page via email, Bluetooth, SNS, etc. To close the page, just tap its corresponding bubble and then you can resume to whatever it is that you're doing. To close a bubble, just hold and drag it towards the "X" mark that's located at the center of your screen.
Another thing that I like about Flynx is that it flaunts a reading mode with both day view and night view options. It's also fast and responsive. Even so, the app is still in beta so you can't really expect it to be 100% free from flaws. As a matter of fact, I noticed that all of the bubbles would disappear altogether if you attempt to open more than four links. Other than this, there were also times wherein the app would fail to load the pages in reading mode. There's also no way for you to adjust the size and opacity of the app's floating bubbles.
Conclusion and Download Link
The functionality that Flynx offers is similar to Link Bubble. However, when I tried both apps, the former appears to be much faster than the latter plus its free version can open up to four links. It's just that the app is still in beta so you cannot expect it to be 100% glitch-free. Even so, it's definitely worth checking out.
Price: Free
Version reviewed: 0.1.6 (Beta)
Requires: Android 3.0 and up
Download size: 1.7MB
Related Posts