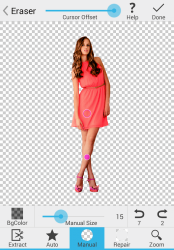 In my previous reviews, I've already covered some useful image background removal tools like Background Burner. It's just that most of these tools are web apps so you can't quickly access them especially if you're using your smartphone or tablet. Fortunately, there's Background Eraser – a free image background removal app that you can use on Android.
What Is It and What Does It Do
Main Functionality
Background Eraser is a free image background removal app for Android tablets and smartphones. With this app, you can quickly remove the background of any image and use the extracted image as a stamp, collage, sticker, etc. You can also make transparent images with ease without having to rely on advanced image editing tools such as GIMP and Photoshop.
Pros
Easy to use
Stable and responsive interface
Features a wide range of tools and options for removing image backgrounds – ex. crop, undo, redo, cursor offset, marker size, background repair, background color, smooth edges, etc.
Features four basic options for image background removal – extract, auto, manual and repair
Automatically saves your extracted images as PNG file
Built-in sharing options
Cons
There's no preview option
You can't fill the background with a color of your choice
No support for landscape mode
Discussion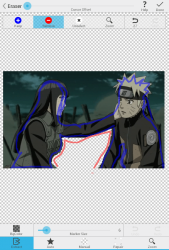 To use Background Eraser, the first thing that you need to do right after launching the app is to load an image. After which, you crop the image without leaving any extra space for unnecessary objects and then you proceed to the main image background removal process.
In this step, you must choose your preferred method. So it's either you remove the background manually or you just let the app do its magic (aka "auto"). Anyways, each option has its own set of advantages and disadvantages but if you really want to be thorough, better choose the "Extract" mode. In the "Extract" mode, you can specify which parts to keep and which parts to remove. You can do this by using the blue and red markers. The blue marker can be used to indicate the areas that you wish to keep while the red marker signifies the areas that you wish to be removed. If you make a mistake, you can always undo or redo your actions. You can also zoom in/zoom out the image for a better view. If you want, you can also toggle the background color of the image to black or white so that you'll be able to know if there are still parts that you didn't manage to remove.
When I tried out this app, I struggled at first because I was just using my fingers to mark and remove the image background but with constant practice, you can perfectly clean up an image even without the help of a stylus pen. What I also like about Background Eraser is that it is very responsive. It's sensitive enough to quickly recognize the areas that you wish to highlight. In short, it doesn't lag. You can also move the image by dragging two of your fingers to your desired direction. As for its zoom feature, you may also use your two fingers to make the image smaller or larger and vice versa. Just remember to properly adjust the marker size as well as the cursor offset. This is your key to having a well-cleaned image.
After you're done with the image background removal, just press the "Done" button on the top-right corner of your screen. You will then have the option to refine the edges of your extracted image. Once you're done, press "Save" and the extracted image will be automatically saved to your image gallery as well as to its respective folder (ex. /storage/sdcard/Pictures/Eraser). Furthermore, the extracted image will be saved in PNG format so its transparency will be preserved. You may then use the extracted image in any way that you want.
Functionality wise, I have no serious concerns regarding this app except for the fact that it lacks a preview tool plus you can't set its viewing settings to landscape mode. Apart from this, there's also no option that will allow you to fill the background of the extracted image with a color of your choice.
Conclusion and Download Link
Background Eraser is a great choice for Android users who wish to easily create images with transparent backgrounds. It's also great for extracting objects out of a certain picture so you can use that object as a clip art, stamp or collage. Furthermore, this app will also serve as a great tool for users who are collecting stock photos. So go ahead and check it out.
Price: Free
Version reviewed: 1.1.1
Requires: Android 4.0 and up
Download size: 886KB
Background Eraser on Play Store
Related Posts