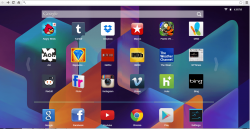 If you go to the Chrome Web Store, you'll find a wide range of new tab customization apps and extensions. Each of which flaunts a specific set of features. You can even make your browser's new tab page look a lot like the default interface of iOS or Windows 8. As for those who wish to bring Android's home screen layout to Chrome, there's the Galaxy New Tab extension.
What is it and what does it do
Main Functionality
Galaxy New Tab is a free Chrome web browser extension. This extension is purposely intended to bring Android's default home screen style and layout to your browser's new tab page. Thus, it will make you feel like you're using Android. In addition, this tool will also allow you to customize your Android-style new tab page by changing its background image as well as its speed dial/app icons.
Pros
Easy to use
Easy to configure
Brings Android's default home screen style to your new tab page
Smooth and responsive
Configurable settings
You can customize your Android-style's new tab page background and speed dials
Has quick access to various apps, games, sites and social networking services like Facebook, Twitter, Pinterest, etc.
Cons
You cannot manually add more screens or thumbnails
You cannot upload your own image background
The built-in search bar lacks support for voice search
Discussion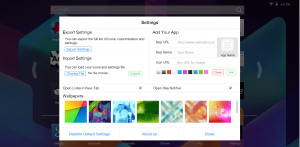 If you want to make the new tab page of your Chrome web browser look a lot like Android, then the best option would be to install an extension like Galaxy New Tab. With this extension, you can easily mimic the style and layout of your Android's default home screen. So every time that you open a new tab page, you'll see a neatly designed UI that has a quick search bar at the top. Apart from this, the speed dials are nicely sorted out. You'll also see the quick launch icons for Google, Facebook, YouTube, etc. at the bottom section. At the top-right corner of the screen, you'll see the notification icons for the date, battery and Wi-Fi connection.
At first glance, you will really think that you're viewing the home screen of your Android phone or tablet. It's just that if you click on the icons, it will redirect you to different sites and web apps instead of the actual Android applications. It is also important to note that since the Galaxy New Tab can only mimic the appearance of your Android home screen, you won't be able to add or place some widgets like the widget for weather or even a simple analog clock.
On the brighter side, you can update the image background of your Android-style's new tab page. You can also delete and replace some of its pre-installed speed dials and apps. Just click on its "Settings" icon to do so.
All in all, I can say that Galaxy New Tab can really transform your browser's new tab page and make it look a lot like Android. It's also very stable, smooth and responsive. It even mimics a few of your Android home screen's gesture commands like swipe to move to the next screen or long-press the app to delete or uninstall. You can also make use of its search bar to perform a quick search on Google.
Nonetheless, Galaxy New Tab can still polish its features. Like, for example, its search bar lacks support for voice search commands. Plus, you cannot set your own image or photo as background. There's also no way for you to manually add more screens or thumbnails and just set it as blank. It would also be great if this new tab page customization tool can add some quick access icons for your Chrome browser's history, downloads, extensions and bookmarks.
Conclusion and download link
I like the look and feel of Galaxy New Tab. It makes your simple-looking new tab page appear more elegant. Plus, it's fully functional. It is loaded with useful speed dials that directs you to various sites and web apps. You can also opt to add your own speed dials. It may lack in certain aspects but it's stable and responsive enough for you to use on a regular basis so why don't you go ahead and check it out?
Price: Free

Version reviewed: 1.0.5

Requires: Chrome on Windows XP, Vista, 7, 8, Linux and Mac OS X

Related Posts