The Command Prompt is DOS in a window. Those who make regular use of the Command Prompt should note that it has a variety of shortcut keys (hotkeys). The following are a few of the handy Command Prompt shortcut keys.
ERASE THE COMMAND LINE
If you have entered a lengthy command, but it includes some typos, you can erase it with a shortcut key. Press Esc to erase the whole command line.
REPEAT  LAST COMMAND
To enter the same DOS command again, press the F3 key. When you press that key, it repeats the previous command exactly as you entered it.
SHOW A LIST OF PREVIOUS COMMANDS
If you have entered lots of commands in the Command Prompt, you can open a command history. Press the F7 key to open the window in the list in the shot below. Select a command from the list, and press Enter to execute it.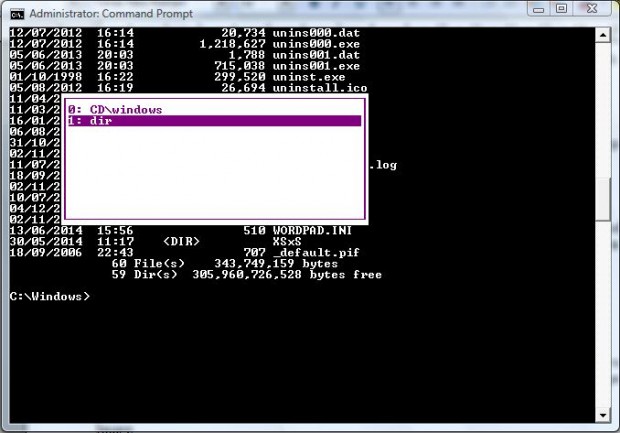 COPY CHARACTERS FROM PREVIOUSLY ENTERED COMMAND LINE 
You can copy a amount of characters from a previously entered command by pressing F2. Then enter a character to copy up to from the previous command. For example, if your previous command was CD\Windows and you entered o it would copy as CD\Windo.
FIND MATCHING FOLDER/FILE TITLES IN DIRECTORY
Press any key to find matching files or subfolder titles in the selected directory. For example, if you entered a and pressed tab it would find a file/subfolder title that began with a. You can cycle through matching files/subfolders with the Tab key.
ENTER CHARACTERS FROM PREVIOUS COMMAND LINE ONE BY ONE
Press F1 to copy characters from a previous command. Press F1 to enter one character from the previous command into the Command Prompt.
Those are some of the Command Prompt shortcut keys. With them you can re-enter previously entered commands, find folders/files and erase command lines more quickly. You will find a further list of DOS keyboard shortcuts here.
Related Posts