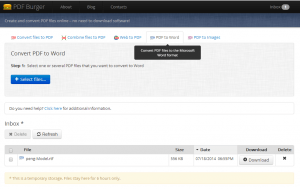 Are you looking for a good tool that you can use to convert your PDF files into RTF documents and images? How about a PDF converter that you can easily load and access online? If your answer is yes, then you might as well check out this free web app called "PDF Burger".
What is it and what does it do
Main Functionality
PDF Burger is a free web app that can create, combine and convert PDF files. Since it's an online tool, it eliminates the hassle of downloading and installing any software. Plus, you aren't required to register. The files that you've processed using PDF Burger will also remain active and available for download for a maximum of six hours. There are also no limits to the number of file conversions that you can do per day.
With this web app, you can do the following tasks:
Convert .doc, .docx, .xls, .xlsx, .rtf, .gif, .jpg and other files to PDF
Combine Word, Excel, JPG, or other file formats to PDF
Save or convert web pages as PDF
Convert PDF files to Word files (.rtf)
Convert PDF files to JPG images
Pros
Simple and straightforward
Clean UI
Offers a variety of options for processing PDFs
Supports batch file processing
Supports different types of document formats – ex. .doc, .docx, .xls, .xlsx, .rtf, .gif, .jpg, etc.
No limit in file conversions
Cons
The connection to the web app isn't encrypted
You cannot opt to send a copy of your converted or merged files via direct link or email
Discussion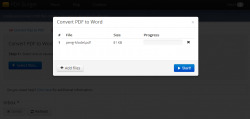 It is important to note that PDF Burger is an online tool. Therefore, it requires a stable internet connection and does not support offline access. Even so, it also has its own set of advantages such as the fact that it won't require you to install any additional software or application on your computer. All you need to do is to bookmark the web app's home page on your browser and you're all set. Just load it when you need it.
The way how PDF Burger works is also quite simple. Unlike other online PDF converters, it won't require you to register an account. You can immediately use the web app right after you load it. It is also up to you to choose your preferred task.
With this web app, you can do many things. You can create or save web pages as PDF, convert other files to PDF, convert PDF files to JPG or RTF or combine files of different formats and save them as PDF. There's also no limit to the number of conversions that you can do per day. The same goes for the document file size.
As you can notice on the web app's interface, there are different tabs for each task. Just click a tab to perform a certain task and follow the steps listed on the screen. It's as easy as that. Say, for example, if you want to convert a PDF document into RTF, just click the "PDF to Word" tab and then upload the file/s that you wish to convert. The good thing about this web app is that it supports batch file processing so you can convert multiple files at once. Thereafter, just click the "Start" button then wait until the web app finishes the file conversion. You will then be able to view the progress of your converted files by looking at the progress bar. Once done, you will be able to see a list of the files that were successfully converted. Just click the "Download" button next to each file to save them to your computer. Apparently, the same process applies to other tasks.
As for file conversion, PDF Burger can easily combine multiple files of different formats and save them as PDF. It should also be noted that all of your processed files will be stored in your temporary inbox. You can access your converted and merged files there for as long as they're still active and available for download. Just remember that these files will be gone if you delete your browser cache or browse via Incognito.
All in all, I can say that PDF Burger is a really good online tool for processing PDFs. I also like the fact that it doesn't place watermarks on converted files. Functionality wise, it is stable and responsive. Plus, it works as intended.
It may have a few drawbacks but if you're just processing random PDF files that you see on the web (e-books, manuals, catalogues, etc.), then this tool will definitely come in handy.
Conclusion and download link
PDF Burger is a decent web app for creating, converting and combining PDF files. It's more ideal for personal use. It is also glitch-free, stable and responsive. So, go ahead and feel free to give it a try.
Price: Free

Version reviewed: N/A

Requires: Works on any browser (Chrome, Firefox, Safari, Opera, etc.)

Related Posts