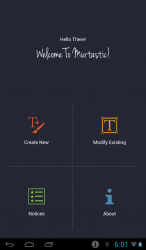 Have you ever thought of creating your own Android home screen wallpapers? Well, if it's just static wallpapers, then you most certainly can. However, with live wallpapers, you need to be a bit more tech-savvy. Fortunately, there's Murtastic – a user-friendly app for creating live wallpapers.
What Is It and What Does It Do
Main Functionality
Murtastic is a free DIY (Do it yourself) live wallpaper creator app for Android. It offers various tools and options that you can use to create your very own live wallpaper. What's even more interesting with this app is that it supports wallpapers with animated typing texts. Thus, you can easily make your device look more appealing without purely relying on live wallpaper presets.
Pros
Simple and neat UI
Stable and responsive
Features a wide range of tools and options for creating live wallpapers – ex. set background color, set background image, edit text, change font, change text color, add page, delete page, scale image to fit, scale image to cover, stretch to fit, etc.
You can modify your existing wallpaper
Great for creating your own custom static home screen background images and live wallpapers
Cons
The maximum page transition time is only ten seconds – it needs to be longer
Needs more tools and options for creating better quality wallpapers
Discussion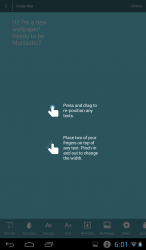 The idea of creating your own live wallpaper may seem too complex but Murtastic has made it a lot easier. As a matter of fact, the app itself flaunts a neat, stable, fluid and user-friendly interface. Furthermore, the tools that you need in order to make your custom live wallpaper are all there. You just need to install the app on your device, launch it and then you may follow the instructions posted in its welcome guide.
For starters, you can notice that Murtastic has four main options on its home screen. There's the "Create New", "Modify Existing", "About" and "Notices". The last two options aren't really that important unless, of course, you want to know more about the app's latest version and development updates.
Moving on, simply select "Create New" if you wish to create a new live wallpaper or home screen background image. At the bottom part of the canvas, you can see a variety of tools and options for creating a live wallpaper. There's the edit text tool, text color, text size, font, wall image, wall color, add page, delete page and others. With Murtastic, you can create live wallpapers with multiple pages. You can also set the transition time for each page.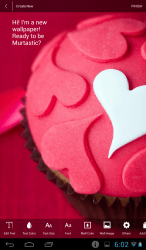 Another interesting feature of this app is that it supports animated typing texts. Therefore, you're free to insert moving texts and you can even place them anywhere on your screen. Of course, you can also use your own photo as background image. The rest is up to you. Just don't forget to press the "Finish" button once you're done.
After which, you will be asked to configure the app as your default live wallpaper. Just select "Set My Wallpaper" and that's it, you're done. If you go to your home screen, you will see your new live wallpaper. Now, if you want to modify your existing wallpaper, just go back to the app then select the option for "Modify Existing". With this option, you can change your live wallpaper's text, background image, color, etc.
All in all, I can say that the current version of Murtastic is good enough for creating simple live wallpapers. It's also stable and responsive so you can use it on a regular basis. Even so, the transition time for each live wallpaper page is a bit too short. It would also be great if this app could add an option for background image scrolling. It also needs to add more interesting tools and options such as custom shapes, objects and animated emoticons. Aside from this, I've also noticed that users can't save and share the previous live wallpapers that they've created. There's also no way to turn off the text animation.
Conclusion and Download Link
I like Murtastic mainly because it's simple to use plus it offers the basic tools that I need to create and modify my custom live wallpapers. It also flaunts a neat, modern and fluid UI. Plus, it's stable and glitch-free. If you still haven't checked it out, go ahead and give it a try. For other cool wallpaper apps, you can check out 500 Firepaper and MultiPicture Live Wallpaper.
Price: Free
Version reviewed: 1.4
Requires: Android 2.3.3 and up
Download size: 792KB
Related Posts