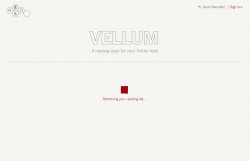 Many web users rely on reading lists to catch up with the latest news and trends. Speaking of which, reading lists can be easily generated from various news and article sources. You can even create a simple reading list out of your blog subscriptions. As for Vellum, it's a web app that is designed to create a simple yet elegant reading list out of your Twitter feed. Let's find out how it works.
What is it and what does it do
Main Functionality
Vellum is a free web app. The purpose of this web app is to help you create a simple yet elegant-looking reading list out of the links that appears on your Twitter feed. The good thing about this web app is that it works on any web browser. Plus, it can sort out your entire Twitter feed as well as your list subscriptions.
Pros
Simple and straightforward UI
Free to use – just link your Twitter account
Stable and responsive
Automatically sorts out your Twitter feed and lists and turn them into reading lists
Direct link support – if you click on any of the items listed on the reading list, it will immediately take you to the article's original source
You can view the original tweet where the link has been fetched
Cons
You can't change the reading list layout from list to grid or vice versa
Does not support multiple Twitter accounts
You cannot mark an item as favorite or even save it for later
You cannot sort out the items on the reading list via site name, link type, alphabetical order, etc.
Discussion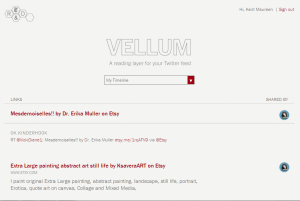 The way how Vellum works is quite simple. Once you visit and load its web interface, just log in using your desired Twitter account and wait for the web app to populate your reading list with new items. After a few seconds, you will immediately see a list of posts and articles. It should also be noted that the articles are directly linked to their original source. Simply put, you can't read right within the web app's interface. The web app only works as an aggregator.
Furthermore, Vellum automatically fetches the links from your Twitter feed or timeline. You may also use it to create a simple reading list out of your Twitter list subscriptions. Just keep in mind that the web app only flaunts a simple user interface. Therefore, you cannot expect it to be as advanced as Readability or Evernote. Nonetheless, it's a useful tool that is suitable for users who often uses Twitter to keep tabs on the latest news and updates.
Functionality wise, the app is responsive and stable. It also flaunts a clean UI. It's just that it could have been much better if it has more options. While using the app, I find it lacking in various aspects. Like, for example, it lacks options for sorting out the items on your reading list. You cannot even sort out the posts or articles that appear on the list. There's also no search box so you can't search for specific items. Plus, you can't mark an item as "favorite". There's also no way for you to get a glimpse of what the article is all about without clicking on its actual link.
All in all, I can say that Vellum has the potential to become even better. It just needs a few more enhancements so that it could provide its users with a better service. It would also be great if this app would add support for linking multiple Twitter accounts.
As for avid Twitter users, you can use Vellum to easily browse and view the links that appears on your feed. So instead of manually searching for tweets with links, just use this web app to create a simple reading list.
Conclusion and download link
Vellum is a simple tool that is ideal for avid Twitter users who always keep themselves up-to-date with the latest news and trends. It may not be very advanced in terms of its functionality and appearance but it's stable and responsive enough for you to use on a regular basis. So go ahead and feel free to check it out.
Price: Free

Version reviewed: N/A

Requires: Works on any web browser (ex. Chrome, Firefox, Safari, Opera, etc.)

Related Posts