When browsing Chrome, you get to visit all sorts of sites and yet, there are times when you can't simply get what you want from one site alone. One good example of this is when you are looking for online shops with more variety and products. Another example is when you're trying to search for specific articles, images and videos. At times like these, you often rely on web search to scout for similar sites which is not only time-consuming but also a hassle.
Speaking of which, did you know that you can easily discover similar sites in Chrome without even making any extra effort? How? It's easy. Just follow the steps listed below.
How to discover similar sites or web pages while browsing in Chrome
On your Chrome web browser, go to the Web Store then download and install the extension called "Google Similar Pages".
Once installed, the extension will automatically show up on your browser's address bar whenever you get to visit a site or page that it can freely act upon.
The next thing that you should do is to open any page or site that you want. For example, you can go to Amazon or eBay. You can also open Twitter or Facebook.
Now, notice the blue icon that appears next to the bookmark star? Just click on it and a new window popup will appear. In the window popup, you will see a list of related web pages and sites together with their respective links and thumbnails.
In addition, you will know if the extension works on a particular page because the icon will turn from grey (shows inactive status) to blue (shows active status).
Moving on, just click on any of the items listed on the list to visit or view a specific site. The link will be opened in a new tab. So that's it. You're done.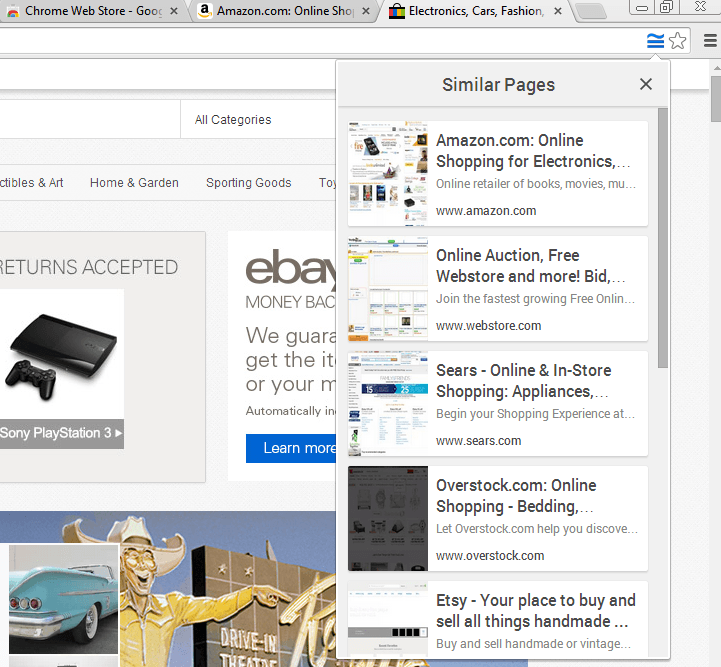 Five simple yet practical ways that you can put this method into good use:
Recipe search
Online shopping
Tips and How To's
Online Research
Blog hopping and many more…
Related Posts