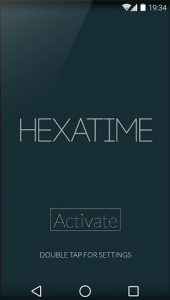 If it's live wallpapers that you want, there are lots of them in the Play Store. For sure, you won't run out of choices. Speaking of which, you might want to check out this new live wallpaper app for Android called "HexaTime". It gives off a dynamic and "geeky" vibe.
What Is It and What Does It Do
Main Functionality
HexaTime is a free live wallpaper app for Android but unlike other apps, it doesn't show some typical background images or photos. Instead, it shows a dynamic clock in the style of a hex triplet code together with a constantly changing background that corresponds to a particular hexadecimal color. Like, for example, if the time is 05:15 PM (in 12-hour format), the app will show the time as #051538 wherein the last two digits shows the time that lapsed in seconds.
Pros
Easy to use
Easy to configure
Customizable settings – you can change the way how your hexatime clock is being displayed
You can choose your desired time format (12-hour or 24-hour format)
It gives off a simple yet, modern and elegant appearance – it constantly gives your phone or tablet's home screen a fresh and dynamic vibe
Cons
None that I can think of but the app could definitely use some additional features and options like the ones listed below.

The option to show the hexadecimal clock as a widget
The option to preview the changes made to the hexadecimal live wallpaper
Landscape view for the settings screen (user interface)
Discussion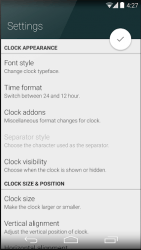 The way how this app works is quite simple. After installing the app on your device, simply launch it from your app drawer. After that, tap the "Activate" button to enable the app and then you will be asked to set the app as your live wallpaper. Just tap the "set as live wallpaper" option to confirm.
Once you're done, you can immediately notice that your phone or tablet's home screen wallpaper has been changed to HexaTime. Thus, instead of showing the usual wallpaper images or photos, you get a constantly changing hexadecimal background and a clock that takes on the style of a hex triplet code.
Speaking of which, the live wallpaper will change its background color according to the hexadecimal number that is being shown. So let's say that the clock shows the time in hexadecimal code and the time is #054202 (in 12-hour clock format), then it will show the background in pink hue. The color hue will eventually change as time as time passes by so you won't feel bored looking at your home screen. Apart from that, you can also set the hexadecimal clock in 24-hour or 12-hour format.
Appearance wise, HexaTime gives off a simple yet, modern and geeky vibe. It gives life to your dull-looking home screen and it's a great addition to your ever-growing collection of live wallpaper apps.
Functionality wise, the app works perfectly without any notable glitches or errors. It is also stable and responsive. Besides, you can easily configure its settings according to your liking. You can even opt to hide the clock and just show the live hexadecimal background with a custom color or pattern.
While I do not have any serious concerns regarding this app, I think it would be great for it to add some more features and options. Like, for example, it could add the option to display the hexadecimal clock as a widget instead of being integrated with the live wallpaper background. It also needs to offer a landscape view option for its settings screen which is a highly needed option for tablet users. Other than this, it also needs to add a preview option so that users can easily view the changes that they've made without closing the settings screen.
Conclusion and Download Link
HexaTime offers a refreshing way to liven up your Android phone or tablet's home screen. It also offers customizable options so it makes it easier for you to change or update your live wallpaper's appearance. It's a definitely a good choice for users who wish to give their home screen a modern, stylish yet geeky vibe. So go ahead and feel free to give it a try.
Price: Free
Version reviewed: 1.4
Requires: Android 4.0 and up
Download size: 951KB
Related Posts