In Google Drive, you can opt to share files publicly by changing the sharing settings and viewing permissions. However, this particular feature hasn't been fully utilized to a certain extent. So unless you let others know that you've shared some public files, they will have a difficult time finding it via web search. Now, let's find out if Cloud Kite can actually fill that void.
What is it and what does it do
Main Functionality
Cloud Kite is a free web-based application that is purposely intended to provide users with free reusable content through publicly shared files. Formerly called as Open Drive, this web app lets you explore and discover the web for public files that are stored on various Cloud storage services such as Google Drive, Dropbox and SkyDrive. At the same time, you are also allowed to share your files to the public. Aside from this, Cloud Kite also makes sure that you get to keep your ownership for each file that you share to the public.
Pros
Neat UI
Users can share and monitor their public Google Drive files
Users can search for free reusable content for professional and educational purposes – you can search for documents, drawings, images, presentations, file folders, etc.
Users can claim ownership to their publicly shared files
Provides various tools and options for managing files – ex. open file, share file, save file to Google Drive, download file, etc.
Ideal for publishers, content providers, students, researchers, etc.
Customizable user preferences
Also available as a Chrome add-on
Cons
There are times wherein the app takes a lot of time to load especially when you're doing search
Needs to add the option to perform advanced search
Occasional glitches and errors
Lacks support for other Cloud services such as Dropbox, SkyDrive and Box.com (for sharing files)
Discussion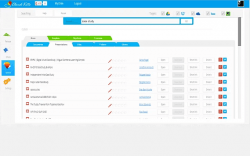 Cloud Kite has a great potential. It can truly benefit those who are constantly searching for free reusable content such as articles, drawings, photos and presentations.
To use Cloud Kite, you simply need to go to its homepage and then you log in using your Google account. Once you're logged in, you will be immediately taken to your private dashboard. It is where you can view and search for publicly shared files.
As you can see on the dashboard, there are several options listed on the left vertical menu. If you click on "Share", then you will be able to view and monitor the files that you've shared to the public. Just keep in mind that when it comes to manual file sharing, the current version of the web app only supports Google Drive. However, you can still make your Dropbox or SkyDrive files available to the public by simply following their respective rules/methods. The main advantage of sharing files via Cloud Kite is that they get promoted and indexed through your profile.
On the other hand, you can click "Search" to search for public files that comes from various Cloud storage services such as Dropbox, SkyDrive, Box.com, Google Drive and even Evernote. You can also narrow down your search to a specific Cloud storage service. To search for a particular file, just type its file name or description on the search box then click "Go".
Of course, you can also do other things such as viewing the actual file, saving the file to your Google Drive and a whole lot more. You can even opt to download the file directly to your computer. As for those who are sharing files, you can opt to edit, unshare or remove your public files.
All in all, I can say that Cloud Kite is a pretty useful tool that can benefit a lot of people. Functionality wise, it still isn't perfect but you can already start using it. It's just that this web app could still use some further improvement especially when it comes to its UI, search accuracy, stability and responsiveness. It would also be great if this web app gets an advanced search function so that its users can easily narrow down their search to specific file types (ex. images, documents, presentations, etc.).
Conclusion and download link
As of now, Cloud Kite still needs to build a solid community of users who are willing to share various types of content for public use. This is a vital key to the web app's development. Other than this, the web app also needs to improve the way how it presents and provides its service. Even so, it's definitely worth checking out. You even can start using it to share your content and at the same time, you can also invite other users to do the same.
Price: Free

Version reviewed: N/A

Requires: Works on any web browser (*Google account log in required)

Related Posts