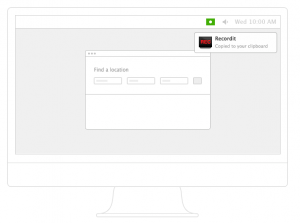 Screencasts are often used for interactive tutorials and online seminars. Compared to screenshots, which only generates simple images, a screencast shows the actual activity that a user does on the screen. It's great for demonstrating the key features and functionality of various apps and software. It's also great for teaching others some tips on how to create digital drawings and web graphics. Now, if you're looking for a simple screencast tool, you might want to consider using Recordit.
What Is It and What Does It Do
Main Functionality
Recordit is a simple screen recording tool that lets you record up to five minutes of high-quality video screen recording. Furthermore, it offers GIF and Twitter support so you can opt to view, save or share your screencast as GIF. By default, this screencast tool will capture any activity on your screen and instantly upload it online as video. You may then opt to save the video as MP4 or GIF. You may also share it to others via Twitter, Facebook, Google Plus, etc.
Pros
Easy to use
Non-obtrusive – runs silently in the background
Lets you select or customize the screen areas that you want to capture or record
Automatically uploads your screencasts online as video
You can view your screencast as GIF
Supports online sharing – lets you share your screencasts to Twitter, Facebook, Google Plus, etc.
You can save your screencast as video in MP4 format
Creates high-quality and fast screen recordings in 1062 x 722 video resolution at a standard frame rate of 4fps
Cons
Lacks support for custom preferences
You can't delete the screencasts that were already uploaded to Recordit's online database
You can't adjust the frame rate and make it higher than 4fps unless you upgrade to Pro
Discussion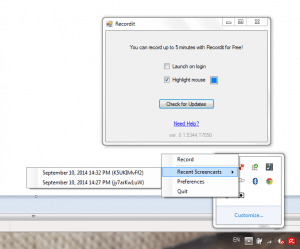 Recordit is a free screen recording tool that's available for Windows and Mac OS X. With this software, you can instantly record any activity on your computer screen may it be a game milestone, a simple software tutorial or an advanced lesson on how to update or customize your WordPress blog or site.
Once installed, Recordit will silently run in the background and will only add a small and non-obstructive icon to your computer's taskbar. Simply put, if you want to record your computer screen, all you need to do is to click the tool's icon on your taskbar.
After which, it will prompt you to select the screen area that you want to capture. Once you've made your selection, simply click the "Record" button and just let the tool do its work. Once you're done, simply click the "Stop" button at the bottom of the screen highlight. Thereafter, the screencast will be automatically processed and uploaded to Recordit's online database. Once it's fully uploaded, you will get a notification message on your taskbar. Just click on that message to view your screencast online. Just keep in mind that with Recordit, the maximum recording length for your screencast is five minutes.
Now that your screencast is ready, you can play it as video or GIF. You can also copy its direct link and share it via e-mail, IM, etc. Other than that, Recordit also provides a simple sharing tool for sharing your screencasts to Facebook, Twitter and Google Plus.
In addition, the quality of the screencasts that you can create using Recordit is quite good. The video resolution is also very clear and you don't need to wait for a long time for the video or GIF to load.
Nevertheless, this free screen recording tool lacks support for custom preferences. Therefore, you can't do anything to change or update its settings except to change its highlight mouse color and set it to launch on login. Apart from these options, you can't opt to change the video resolution or adjust the frame rate. You can't also opt to disable the screencast's automatic uploading to the software's online database. You can't even delete the screencasts that were already uploaded. In addition, you need to upgrade to the software's Pro version in order to adjust its frame rate.
All in all, I can say that Recordit is simple and easy to use. I also like the quality of its screencasts but it could still be improved in many ways. First and foremost, this tool needs to offer more options for customizing its preferences. Plus, it would be nice if users can opt to disable the automatic uploading of their newly created screencasts to the software's online database.
Conclusion and Download Link
If you're looking for a simple screen recording tool that can create high-quality and fast-loading screencasts, you can try Recordit. Just don't expect that it would offer you with tons of customizable preferences. Anyways, here's a sample screencast that I've made using the said software.
Price: Free
Version reviewed: 0.1
Supported OS: Windows XP, Vista, 7, 8 and Mac OS X
Download size: 648KB
VirusTotal malware scan results: 0/55
Is it portable? No
Related Posts