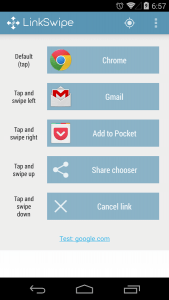 In Android, you still need links to view or share various online content such as web pages, blog posts, videos, images, PDFs, etc. Speaking of which, there are also apps that can automatically turn text URLs into links. Now, what if you want a simpler way to manage your links especially when you're using a non-browser third-party application? If that's what you want, then you can try LinkSwipe for Android.
What Is It and What Does It Do
Main Functionality
LinkSwipe is a free productivity app for Android that sets custom actions for every specific gesture command that you impose upon a link in a non-browser application. Like, for example, if you tap and swipe a link from Facebook, then you can immediately share it to your friends and contacts via e-mail. With the addition of this feature, you can easily manage multiple links that leads to different sites or online pages.
Pros
Easy to use, easy to configure
Easy gesture controls – single tap, tap and swipe left, tap and swipe right, tap and swipe up, tap and swipe down, etc.
You can set different actions for each gesture such as opening a link using your preferred web browser, sharing a link to a particular app or site, cancelling a link, etc.
Configurable settings/user preferences – you can change the time for swipe delay, enable the option to show a confirmation message, etc.
Cons
The free version of the app is only limited to two gestures (single tap, tap and swipe left). If you want to unlock the rest of the gestures, you need to upgrade to the app's PRO version.
You cannot set custom actions for your link. You can only choose from its list of presets.
Discussion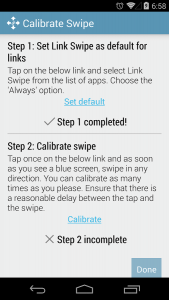 When using LinkSwipe for the very first time, it will ask you to calibrate it first. Speaking of which, the app will guide you through the calibration process so all you need to do is to follow the given steps. Just remember that in order for this app to work, you must set it as your default app for links. You must calibrate it by doing the swipe gesture on your screen.
Once the app has been successfully calibrated, you can proceed to its actual set-up. By default, you can do the tap or single tap gesture on links so it's up to you to choose your desired action for that particular gesture command. You're also free to choose the application that you want. So if you want to immediately open any link from a non-browser application (ex. Facebook, Twitter, Notepad) by simply tapping on it, then go ahead and set it up.
As for the second available gesture, you can tap any link and swipe your screen to the left. It is also up to you to choose a corresponding action for this specific gesture. With LinkSwipe, you can choose to open a link on your web browser, share a link to another app, open the link via share chooser, cancelling a link or impose no action at all. Just remember that these actions will only work if you are dealing with links on a non-browser application.
Functionality wise, LinkSwipe is a very stable and responsive app. It quickly responds to gesture commands and link actions. Its UI is also simple yet, neat and stable. It's just that if you're using its free version, then you'll just have to make the most of its two available gesture controls. If you want to unlock the rest of its features, then you'll need to upgrade to PRO. In addition, the app doesn't allow its users to set custom actions such as copying a link or converting it to an unclickable text URL. It would be nice if these options were available.
Anyways, LinkSwipe offers a decent solution for users who are looking for ways to easily manage their links in a non-browser third-party application. It is also simple enough for anyone to configure. Plus, it doesn't have any annoying glitches or errors.
Conclusion and Download Link
I like LinkSwipe mainly because it's an app that can help users open, manage and share their links in a more efficient manner. Its free version is also good enough for carrying out basic link actions but you can also consider upgrading to its paid (PRO) version. So go ahead and check it out.
Price: Free, Pro – $1.08
Version reviewed: 1.0
Requires: Android 4.0.3 and up
Download size: 371KB
Related Posts