Have you ever wondered if you can change YouTube's background to black instead of its default white color? By changing to a darker background, the videos will be accentuated in such a way that you could focus and enjoy what you're watching instead of diverting your attention to other elements and sections.
So, go ahead and skip past the break to learn how. Just remember, this method will only work if you're browsing YouTube in Chrome.
How to change YouTube background to black in Chrome
On your Chrome web browser, go the Web Store then search for an extension called "Dark Skin for Youtube".
Download and install the extension on your web browser.
Once installed, the extension will automatically add its shortcut icon to your browser's omnibar. You can click on it to toggle the YouTube theme or skin from black to white or vice versa.
So what's next? Simply go to YouTube (youtube.com). If you're already on YouTube, you can reload the page so that the changes will take effect.
As you can notice, instead of the usual white theme, the background has changed to black. Just click on any video to start watching. You can also choose to set the video size to "Theater Mode" for a "cinema-like" viewing experience.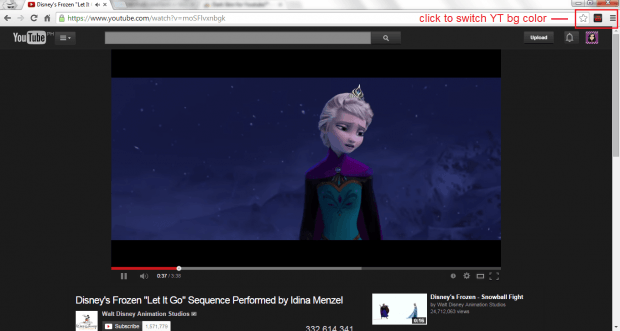 So that's it.
Now, if you want to restore the YouTube background back to white, simply click the extension's icon on the omnibar. The background will be immediately changed to white. It's that simple.
The good thing about using the Dark Skin for Youtube extension for Chrome is that you don't need to do any complex UI settings or configurations. Just keep in mind that when you're switching to the black background, the color of the main text in YouTube will be also changed from black to white.
Related Posts