This previous article covered some of the Windows Media Player default keyboard shortcuts. However, you cannot customize the software's hotkeys without the WMP Keys plug-in. That's a global hotkey support add-on for Windows Media Player.
First, add the plug-in to the media player. Head on over to this page, and click the Download latest version link. Then open the folder that includes the WMP setup.exe, and click on that to install the plug-in.
Open Windows Media Player, and select Tools > Plug-in > Wmpkeys Plugin. Press Ctrl + M if the menu bar isn't at the top of the Windows Media Player window. Now press any of the new hotkeys below:
Play/Pause: Ctrl + Alt + Home
Next Track: Ctrl + Alt + Right
Previous Track: Ctrl + Alt + Left
Volume Up: Ctrl + Alt + Up
Volume Down: Ctrl + Alt + Down
Fast Forward: Ctrl + Alt + F
Fast Rewind: Ctrl + Alt + B
Rate Track [1 to 5]: Ctrl + Alt + [1 – 5]
Alternatively, you can also switch those hotkeys to other alternatives. Click Tools > Options to open the window below. Then select Plug-ins > Background and Wmpkeys plugin.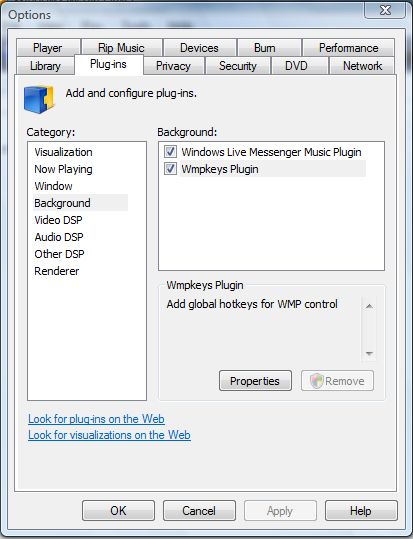 Next press the Properties button to open the window below. There you can enter alternative keyboard keys for each of the hotkeys. Click OK to close the window, and then press the new hotkeys.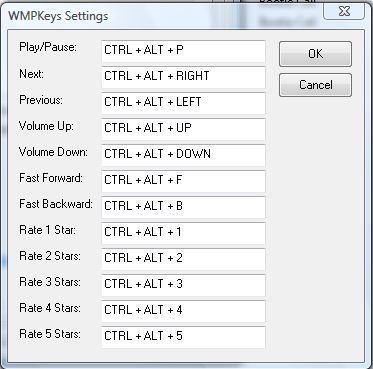 WMP Keys is a handy plug-in that quickly enables global hotkeys support in Windows Media Player. With this plug-in you can now add your own custom hotkeys for some of the software's options.
Related Posts