Whilst you can add website pages to your bookmarks, there are other ways to set up shortcuts to websites. You can set up customizable website URL (Universal Resource Locator) shortcuts so that you need not enter the full website URL in the address bar to open them. To set up customizable shortcuts, add the Shortcuts extension to Google Chrome.
Open this page and click on the + Free option to add the extension to Google Chrome. Then enter > in the address bar and press the Tab key.  You'll then find Shortcuts on the left of the address bar as below.

Now you can add some URL shortcuts to open websites with. Enter + and then some shortcut text in the address bar. For example, you could enter g as a shortcut to open the Google search engine. Then press Space to enter the full website URL and Enter.

Now try out the keyboard shortcut. Enter g in the Google Chrome address bar and press Enter. That should open the Google search engine page. As such, now you can open the page by entering g in the address bar instead of www.google.com.
Click the Customize Google Chrome button at the top right of the window, Settings and Extensions. Then scroll down to Shortcuts and press Options to open the page in the shot below. That includes a list of all your URL shortcuts, and you can add more by entering them in the Shortcut and Link text boxes. To delete shortcuts, select them on the list and press the Remove button.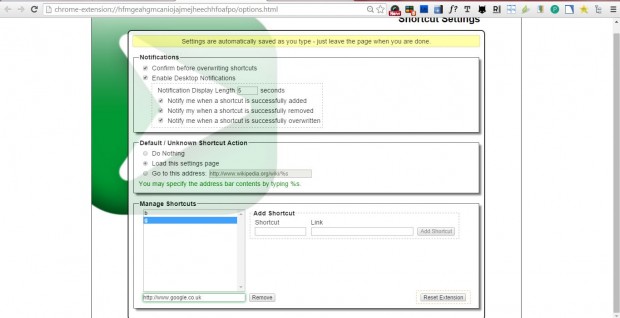 So instead of adding lots of websites to your bookmarks consider setting up some shortcuts with this extension. Then you can open pages by entering a very short text shortcut in the address bar instead of a full URL.
Related Posts