What's amazing about Pinterest is that it lets you discover a lot of cool and interesting visual content that you can save and pin into your personal pin boards. You can pin recipes, infographics, photos and a whole lot more.
Speaking of which, did you know that you can also have a quick access to the world's most favored visual discovery site just by opening a new tab page in Chrome? That's not all. For every new tab page that you open, Pinterest will display a high-quality photo from 500px that is based on your current interest. It also provides quick access to your browser's apps page and bookmarks bar.
So if you want to learn how to start Pinterest every time you open a new tab page in Chrome, better read on.
How to start Pinterest in new tab page in Chrome
Open your Chrome web browser then go to the Web Store.
On the Web Store, search for the visual discovery site's official Chrome browser extension. The extension is called "Pinterest Tab".
Download and install the said extension on your Chrome web browser.
Once installed, simply open a new tab page. After which, you will be asked to select your interests for the day. Just click on any of the given categories (ex. food, photography) then click "Start my day".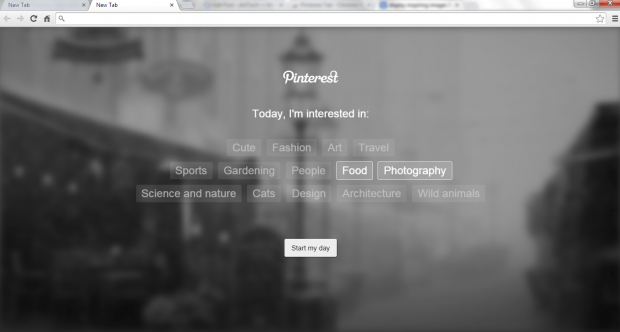 So that's it. Every time you load a new tab page, you will see a high-quality photo that is based on your interest for that particular day. You may also choose to pin that photo to your Pinterest pin board. Aside from this, your new Pinterest Tab will also display a simple greeting together with other relevant information – ex. date, sunrise, sunset, moon phase, climate temperature, etc.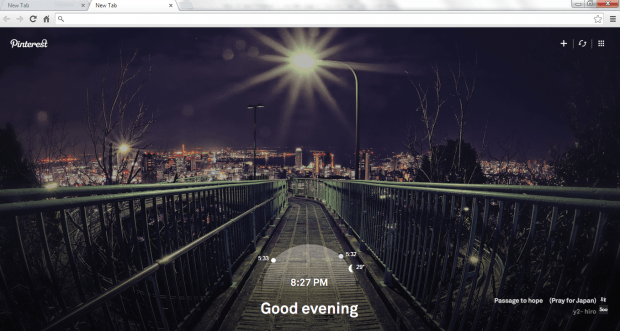 If you want, you can also click the "Refresh" button on the top-right section of your Pinterest Tab to change the background image.
Related Posts