In this article, I told you about the Progre add-on that adds a progress bar to Firefox's address bar. In a similar fashion, you can also add a progress bar, which indicates loading status, to Firefox's page tabs with the Informational Tab extension. Informational Tab also adds thumbnail previews of the pages to the tabs.
Open the Informational Tab page and press the + Add to Firefox button to add the extension to Firefox. Then restart the Firefox browser. When you reopen the browser, you'll find the tabs include thumbnails on them as below.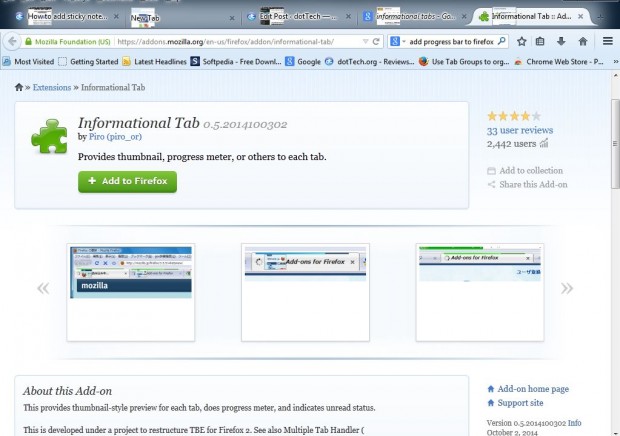 Now when you open a new page, you'll also see a green progress bar at the top of tab as below. That indicates how much of the page has loaded. Most of the time it will quickly flash on and off the tab, but if you open pages with lots of images the progress bar might remain up for longer.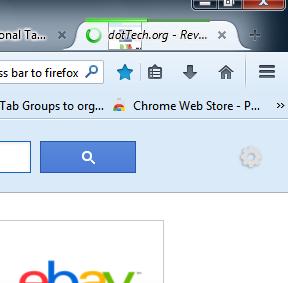 You can customize both the progress bar and the thumbnail previews on the tabs, which might seem a little tiny at first. Press the Open menu button at the top right of the Firefox window, select Add-ons and then click the Options button beside Informational Tab. That opens the configuration window in the shot below.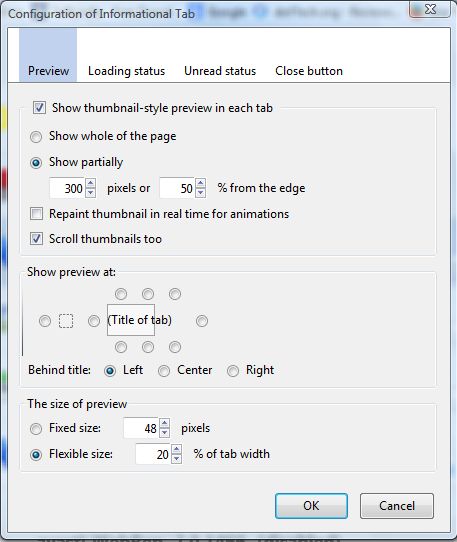 Click Preview and enter alternative numbers in the Fixed size and Flexible size text boxes to expand the thumbnail previews as in the shot below. You can also adjust their relative positions by selecting the Left, Right and Center radio buttons. To remove the thumbnails from the tabs, click the Show thumbnail-style preview in each tab check box.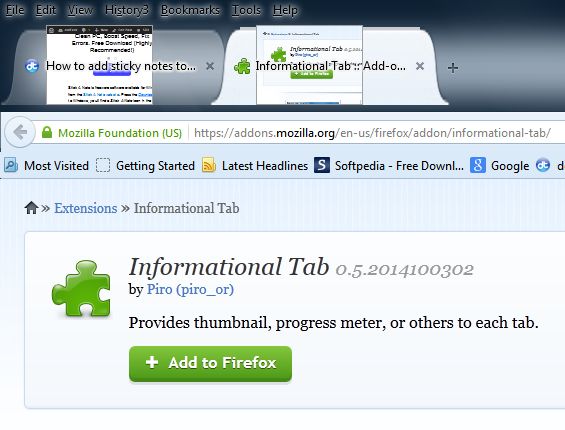 Click Loading Status to customize the tab's progress bar. There you can switch the progress bar color by selecting the Blue radio button. Click Below Label to move the progress bar to the bottom of the tabs.
As it adds both thumbnail previews and a progress bar to browser tabs, Informational Tab might be better add-on than Progre. You can find further details at the Informational Tab website.
Related Posts