Windows Flip 3D is the 3D preview of open windows. You can trigger the 3D preview in Windows Vista and 7 by pressing the Win + Tab keyboard shortcut. Alternatively, Flip 3D can also be triggered without any hotkey with the FlipCorner utility.
FlipCorner is an application that enables you to trigger Flip 3D by moving the cursor to the corners of the desktop. You can add the software to Vista or 7 from this page. Click the Download button on the right side of that page to save the Flip 3D Zip file. To extract the Zip, right-click it, select Extract All and choose a path for the extracted folder. Then you can open FlipCorner from the extracted folder. When the app is running, it sits in your system tray as in the shot below.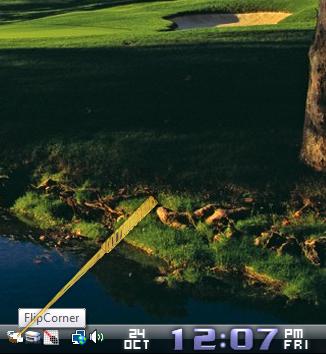 Click the FlipCorner system tray icon to open the window below. There you can select the corners of the desktop to open Flip 3D from by clicking the check boxes. Press the OK button to close the window, and move the cursor to one of the desktop corners you selected. That will open the Flip 3D window previews.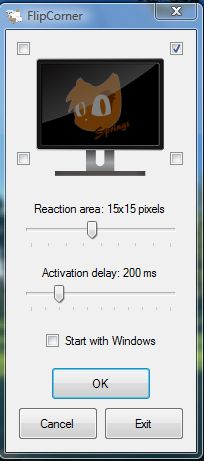 The FlipCorner window also includes a Reaction area bar. That's the corner area of the desktop that opens Flip 3D. To expand the corner area, drag the bar to the right.
With the FlipCorner utility you can now quickly open the Flip 3D preview from any corner of the desktop. Note that you will need to have Windows Aero enabled for the utility to work.
Related Posts