Having two or three extension icons on your browser's omnibox is no big deal. It still won't make your browser too messy and crowded. However, when you have ten or more active extensions, then that's a totally different story. You might want to consider hiding the icons from showing up on your browser's omnibox while still keeping your extensions active.
Speaking of which, Chrome has a built-in option that lets you hide or remove extension icons from the omnibox. You can also restore the icons whenever you want.
How to hide extension icons in Chrome
On your Chrome web browser, go to your browser's omnibox. It is the section in between the menu button and the address bar.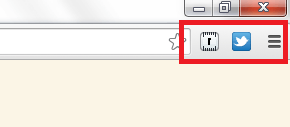 Next, choose an extension icon that you want to hide. Right-click on that icon then select "Hide button" from the right-click menu.
So that's it. The extension button will be immediately hidden from your browser's omnibox. Nevertheless, you can still access the extension with a keyboard shortcut.
Alternatively, you can view the extension by going to your browser's extensions page. Just click the Menu button then select "More Tools" > "Extensions".
How to restore hidden extension icons in Chrome
Now, if you want to restore the extension icon back to the omnibar. You simply need to open Chrome's extensions page. Thereafter, find the extension with a hidden icon that you want to restore. After which, simply click the "Show button" option right below that extension.

It's that simple.
Just keep in mind that there are some extensions that rely heavily on their shortcut icons. Without the icon, the extension won't function at all. Therefore, you need to assess each extension first before you decide to hide the icons.
So there you have it. You just learned how to hide and restore extension icons in Chrome.
Related Posts