With Chrome, you can easily copy text from any site or web page and then paste it anywhere you like. It's just that by default, you will not be able to paste the text without its encoded formatting. You can only do this by choosing the "Paste as plain text" option in the context menu.
If you want to automatically copy and paste any selected text without formatting and in plain text format, you can do so by following the steps below.
How to automatically copy web content as plain text in Chrome
On your Chrome web browser, go to the Web Store. Type "Copy as plain text – amaz.in/g" then press "Enter".
Select the said extension from the list of results then click the "+Free" button to install it on your web browser.
After installing the said extension, you can browse for any content that you want to automatically copy and paste as plain text.
Next, just highlight the text then on the right-click menu (context menu), select the "Copy as plain text" option instead of the usual "Ctrl + C" command.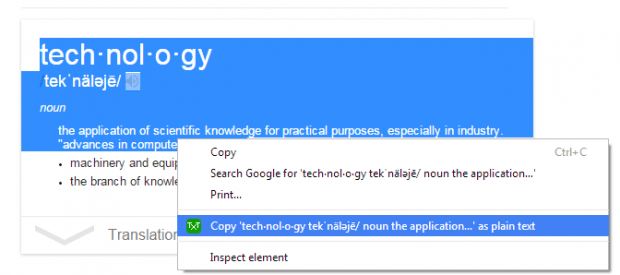 Now, go ahead and open a text or word editor. You can use any text/word editor that you like such as OpenOffice Writer, MS Word and even NotePad.
So just like the usual way of pasting text, just enter "Ctrl + V" or select the "Paste" option from the toolbar.
That's it. The selected text will be immediately pasted to your text/word editor without any formatting such bold and italicized texts, colored fonts, active links, etc.
With the help of this extension, you can easily copy and paste any web content and then save them in plain text format. This is especially helpful for students, researchers, data entry workers, programmers and webmasters. So go ahead. Try it out.
Related Posts