The Windows taskbar live preview shows you a small thumbnail of a taskbar icon's window when you move the cursor over it. Neither Windows 7 nor 8 include options to customize the thumbnail previews. However, you can still customize the Windows taskbar preview thumbnails with the Aero Winshark application.
Head over to the developer's website and click the Download button to add Aero Winshark to your software library. Then you can open the application directly from your download folder.  Click the Aero WinShark v1.2.exe to open the window in the shot below.
Now you can expand, or reduce, the thumbnail previews by dragging the Minimum Thumbnail Size and Maximum Thumbnail Size bars to the right or left. Drag the bars to the right to expand the thumbnail previews as in the shot below. Then click the Apply Changes button at the bottom of the window.

The software also includes various margin bars to adjust the thumbnail preview margins. Drag them to the left and right to adjust the margins of the thumbnails as below. You can restore the default settings by pressing the Restore Default button.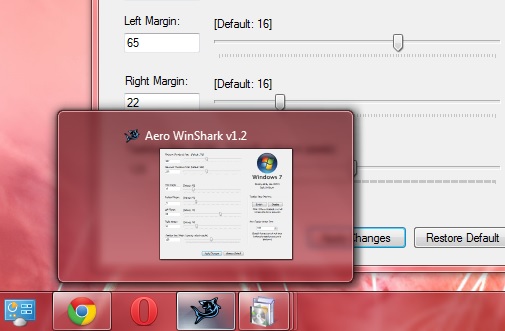 To remove the taskbar previews, press the Disable button on the taskbar. Then click the Apply Changes button. Press the Enable button to restore the thumbnail previews on the taskbar.
Aero WinShark is a relatively basic, but effective, package to customize the taskbar previews with. The software is available for both the Windows 7 and 8 platforms, but not Windows Vista. 
Related Posts