One of the disadvantages of giving out your email address is that you could be getting unsolicited emails from unknown senders. Apparently, these emails are categorized as spam but you can't totally avoid receiving them especially when you're using your email for work and business.
Even so, there's a way for you to limit the number of spam messages that you receive. By using CAPTCHA to hide your email, you can weed out the bots and spammers. This way, you can at least guarantee that your email address will be only visible to humans.
How to hide and protect your email address using CAPTCHA
Open your web browser then log in to your Google account.
Next, click here to go to "reCAPTCHA Mailhide" – a free web service that lets you hide and protect your email address from bots and spammers.
On the reCAPTCHA Mailhide page, make sure that you're on the "Protect your email" tab then look for the "Protect an email address field".
Type the email address that you want to hide in the field provided. Click "Protect It" as soon as you're done.

After which, the web service will automatically give you the URL and HTML code for your protected email address. To use the URL, just copy and share it to your contacts. After clicking the URL, your recipient will be asked to solve a CAPTCHA before he/she can view your email address.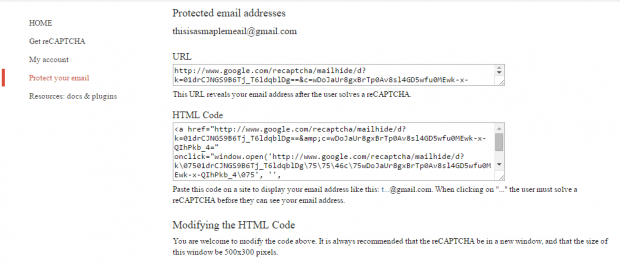 Now, if you have a blog or site, you can embed the HTML code of your protected email address on your contact page, about page, etc. So instead of showing your full email, your email address will basically look like this: t…@gmail.com. Just click on the "…" to open the CAPTCHA dialog. Solve the CAPTCHA to view the full email.
It's that simple.
Related Posts