In MS Word, there's the option to find the synonym of a word by simply right-clicking on it. It's a very convenient option especially if you're someone who likes to write and take notes. However, such option does not exist in Chrome's right-click (context) menu. By default, Chrome's right-click menu only offers selected items.
So if you want to add the "Synonym" option to its right-click menu, here's what you need to do.
How to add the Synonym option to right-click menu in Chrome
Open Chrome then go to the Web Store. Find and download the extension called "Thesaurus: Synonym 4 Right Click" then install it on your browser.
After installing the extension, it won't place any shortcut icon next to your browser's address bar. It's non-obtrusive and it won't take up any space from the omnibar.
So what's next? You can load a web page or blog post in a new tab.
To get the synonym of the word, simply highlight it then right-click your mouse.
The context menu will appear and from its list of options, select "Synonym for (the word that you've highlighted)". After which, choose the most appropriate word from its sub-menu.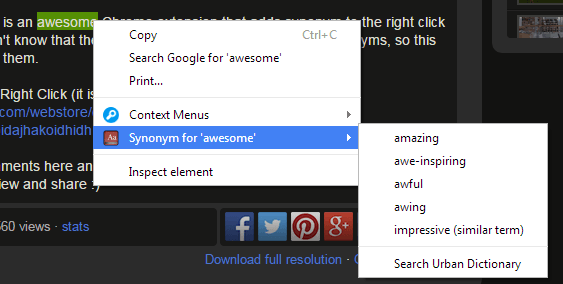 You can also choose to search for the word's actual meaning by looking it up on Urban Dictionary.
To get the synonym for another word, just repeat the steps listed above.
Just remember that you need to highlight the word first before searching for its synonym. If you do not highlight the word, the "Synonym" option in the right-click menu won't show up.
So there you have it. You have learned how to quickly look for the synonym of a word just by simply opening your browser's right-click menu. By doing so, you can save a lot of time and simply focus on your writing work.
Related Posts