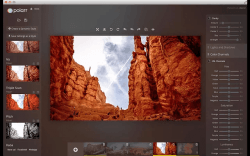 Filters are great for enhancing photos. They make your photos look more vivid. You can even apply filters to modify an image's look and feel. Speaking of which, there are so many techniques in applying filters and each of which is unique. The thing is not all filters are good enough to satisfy your artistic needs. So if you're someone who is currently in search for a good photo enhancement tool that supports advanced filters, perhaps you could try this free Chrome browser app called "Polarr Photo Editor".
What is it and what does it do
Main Functionality
Polarr Photo Editor is a free photo enhancement app for Chrome. With it, you can use a wide range of advanced filters to enhance your photos. That's not all. The said app also supports large JPEG photos of up to 30MP in size. It also offers various adjustment tools for adjusting a photo's color temperature, contrast, exposure, highlights, shadows, tint, gamma, clarity, color channels, color curves, etc.
Pros
Users can choose whether to apply instant filters or detailed filter
Features various tools and options for photo adjustments – ex. Temperature, Tint, Exposure, Gamma, Contrast, Saturation, Clarity, Highlights and Shadows, Color Channels, Color Curves and Tones, Sharpness, Vignette, Fringe, Grain, etc.
Users can insert watermarks into their photos (for authorship control)
Features basic editing tools such as crop, zoom, rotate, undo and redo
You can compare the "before" and "after" state of your enhanced photos
Supports large JPEG images of up to 30MP
Supports other image formats such as PNG and GIF
Runs offline – no Internet connection required
Cons
Other than filters, the said photo enhancement tool lacks various photo editing options and tools such as custom crop, resize, stroke/outline, skew, flip horizontal/vertical, etc.
There's a tendency for the app to run slow and become less responsive especially when you're editing large (high-res) photos.
Discussion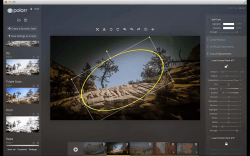 The primary functionality of Polarr Photo Editor is to enhance photos using filters. It is what makes it different from other photo editors. Since it mainly focuses on photo enhancement, you cannot really expect it to offer more tools for photo editing and manipulation. However, that doesn't mean that it totally lacks in that aspect. As a matter of fact, Polarr is equipped with basic editing tools that you can use to crop, zoom, rotate and compare your "before" and "after" images. You can also add watermarks to your photos.
What's great about Polarr is that it works offline plus it flaunts an elegant UI. It also supports large JPEG images of up to 30MP. That's not all. It also supports other image formats such as PNG and GIF.
The interface of the editor is also sleek and user-friendly. You can just drag and drop the photos that you want to edit and then choose from its wide range of "ready-to-apply" filters. Other than that, you can also choose to make your own color and tone adjustments. Since Polarr offers detailed image enhancement tools, you can make your own filters so you're not stuck with what is already being given.
Speaking of which, the way how the photo editor works is fairly easy. So if you're already familiar with other photo editing tools such as GIMP or Photoshop, then you can easily figure out the way how Polarr Photo Editor works.
All in all, I really like the fact that this photo editor works offline plus it lets you enhance your photos just the way you like it. You're not restricted to using the "ready-to-apply" filters that are available from its list. You can do your own adjustments in terms of your photo's temperature, tint, exposure, gamma, contrast, saturation, clarity, highlights and shadows, color channels, color curves and tones, sharpness, vignette, fringe, grain, etc.
On the downside, there's a tendency for the editor to lag or become less responsive especially when you're editing large photos. It also lacks some essential photo editing tools. So if you want to resize or skew some parts of the photo, you'll still need to transfer it to another photo editor.
Conclusion and download link
I like the wide variety of filters that I can make out of Polarr Photo Editor. I also like its elegant and user-friendly UI. So whether you're a professional photographer or just a simple photography enthusiast, you should definitely consider using this photo enhancement tool. It can definitely help make your photos look more classy and vibrant.
Price: Free

Version reviewed: 0.0.6

Requires: Chrome on Windows XP, Vista, 7, 8, Linux and Mac OS X

Polarr Photo Editor on Web Store
Related Posts