In Chrome, it's easy to drag and reorder tabs in the same window. You can also choose to drag any tab to transfer it to another window. Other than that, it's also possible to drag a tab to open it in a new window. Even so, you might want an alternative option for managing your tabs without relying too much on your mouse.
Speaking of which, you can learn how to quickly move the current tab to a new window in Chrome. It can be done by simply using a keyboard shortcut.
How to quickly move current tab to new window in Chrome
In Chrome, go to the Web Store or simply click here to download and install the "Tab to Window Keyboard Shortcut" extension.
Once the extension is installed, it won't any shortcut icon to your browser's omnibox. You'll just know that it's active because you can check it out from your browser's extensions page.
Moving on, you may open another tab. The tab that you're currently viewing is your current tab. To move it to a new window, just press "Alt + Shift + W" on your keyboard and that's it. Your current tab will be immediately moved to a new window. You can also view both of your active windows at the same time.
By default, the keyboard shortcut that you must use for moving your current tab to a new window should be "Alt + Shift + W". If you want to change the keyboard shortcut, just type chrome://extensions on your browser's address bar then press "Enter". This will take you to your browser's extensions page.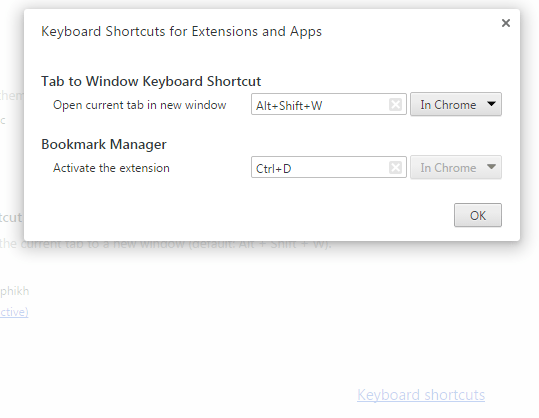 Once you're there, scroll down until you see the "Keyboard Shortcuts" link at the bottom of the page. Click on it then on the overlay window, just enter your desired keyboard shortcut for the said extension.
That's it. You're done.
Related Posts