YouTube videos aren't only good for entertainment purposes. They can also serve as effective learning materials. For example, teachers can conduct a video presentation and then have a quiz afterwards.
Speaking of which, there's another way to make video presentations more fun and exciting. So instead of having those old and boring quizzes, you can merge them with the actual videos from YouTube to create interactive video quizzes. If you want to learn more about it, just read and follow the steps listed below.
How to create interactive quizzes out of YouTube videos online
Open your web browser. You're free to use any web browser may it be Chrome, Firefox, Opera, etc.
Next, click here to go to "Blubbr" – a free web app that lets you play and create interactive video quizzes.
Once you're on Blubbr, you will be asked to sign in using your Facebook or Twitter account. You can also opt to log in using your email address. If you're not yet registered, you will need to sign up.
Once you're signed in, click the "I want to create my own triv option" on the homepage. A triv is basically an interactive video quiz or video trivia.

After which, you will be asked to give your triv a title. So just enter the title of your triv (video quiz) then click "Next".
Search for a video that you want to include in your triv then click "Next". Next, follow the steps posted on the screen (as indicated by the arrows).

1 – Search for a video from YouTube on the left sidebar.
2 – Move the sliders under the video to indicate the video start time and end time.
3 – Enter your questions with up to four possible answers on the right sidebar.
4 – Click the "I'm Done" button to publish your newly created triv.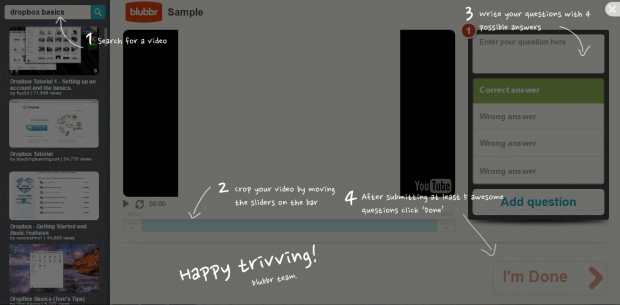 Additional Tip: You may click the "Preview" link to preview your triv (video quiz) before saving.
Add a category and tags to your triv then click "Publish".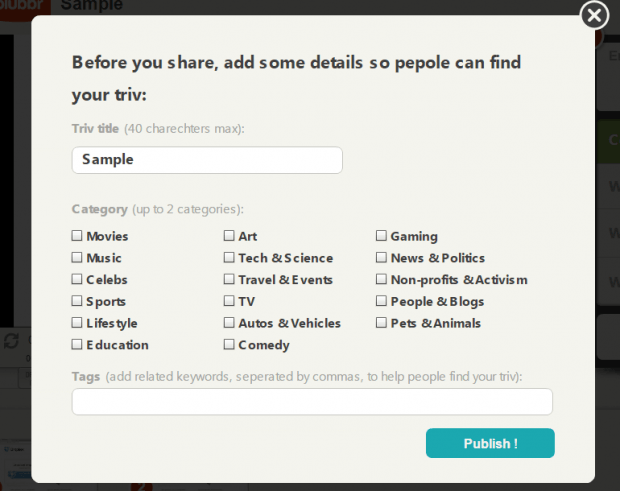 You may then share or play your published video quiz. You can also challenge a friend if you want.
Just remember that once your triv or video trivia is published, you can no longer edit or remove it.
Related Posts