Have you ever received an email that you want to forward or share to others? What if you don't want to share it as a forwarded email message? What if you want to share it via Facebook, Skype, Hangouts or Twitter? Is there any way for you to convert your email into a sharing link?
Well, there is. All you need to do is to create a unique URL for your email. After that, you may share it online and just let your recipients download the files attached to your email. You can even let them download your original email message as .eml (a file format that you can view in Outlook).
How to create a unique URL for any email for file and message sharing
Go to your email account (ex. Yahoo, Gmail).
Compose a new email. Write your message and add files as attachments.
After you're done, send your email to email@emailadore.com.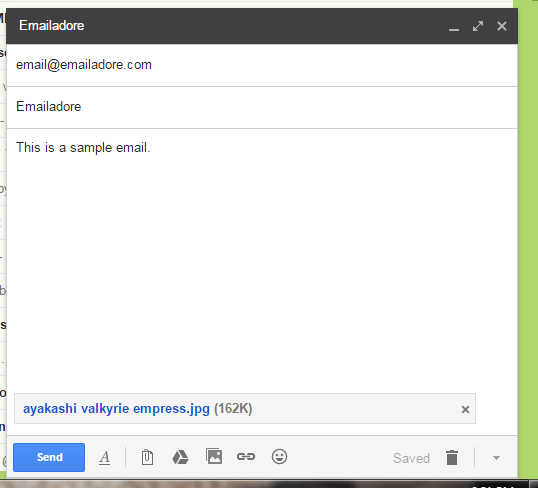 The process is similar for forwarding existing emails. Just make sure to send your email in the email address provided above.
Wait for a few seconds. Check your inbox. You will get an email from "Emailadore". Open it to view your email's sharing link (unique URL).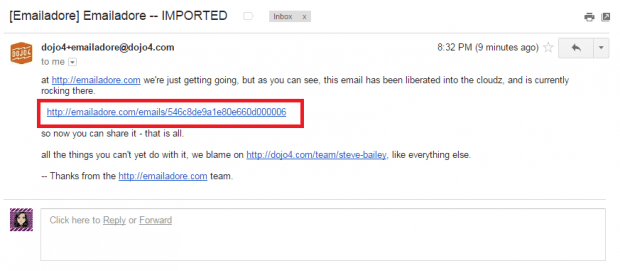 Copy the URL and then share to your recipients via Facebook, Twitter, IM, Skype, Hangouts, etc.
After which, your recipients can freely view your shared URL using their web browser of choice. All they need to do is to click the attached file to download and save it to their computer. They can also click and save the .eml copy of your email message.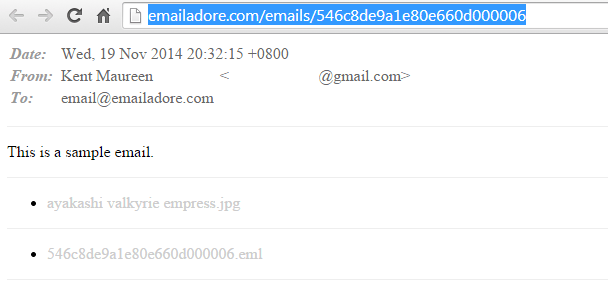 So that's it. You're done.
With Emailadore, signing up is optional. The main advantage of signing up is that you can access and review all of the emails that you've sent. These are your emails with unique sharing links (URLs).
Related Posts