Firefox includes a variety of hotkeys that give you shortcuts to options. You can also make further Firefox keyboard enhancements with the Focus Keyboard add-on. That will enhance the Ctrl + C and Ctrl + V keyboard shortcuts for browsing, and give you new Firefox keyboard shortcuts for the Del and Return keys.
You can install the add-on to Firefox from this page. There press the + Add to Firefox and then restart the browser.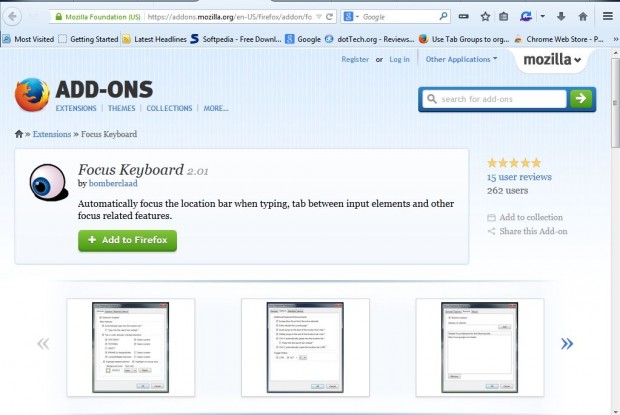 Now you can try out some of those keyboard enhancements. To begin, select and copy some text with Ctrl + C and then press Ctrl + V. You'll find the text is automatically copied into the address bar without you selecting it. You can also copy the website's URL without selecting it first by pressing Ctrl + C.
Next, press the Ins (Insert) key. By pressing that key, you will jump straight to beginning of the address bar without selecting it. If you press the Del (Delete) key, you will jump straight to the end of the bar. Press the Enter key to reload a page.
In addition, press any key when the address bar is not selected. That will then enter the text in address bar without you selecting it. Thus, with this extension there's no requirement to select the address bar to input a URL.
To select further options, click Open menu > Add-ons and press Options beside Focus Keyboard 2.01. That will open the window below where you can select numerous check boxes to enable or switch off some of the extension's keyboard enhancements. Click on the Blacklist tab to enter website URLs to exclude the add-on's keyboard enhancements from.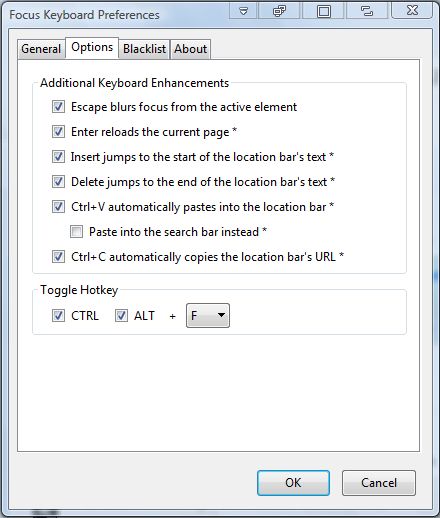 This is a handy extension that provides some notable keyboard shortcuts. It should work on all the more recent versions of the Firefox browser from 3.0 onwards.
Related Posts