Do you find it too troublesome to frequently touch your device screen just to pause a music or song that you're playing? How about when you play the next or previous song? If your answer is yes, then you might want to consider using simple gestures to control your music apps. Like, for example, you can just place your hand in front of your device and then swipe to the right to play the next song. It's that simple.
If you want to know how it can be done, simply read on.
How to use gestures to control music apps in Android
First of all, download and install the "BrainWave Music Control" app on your Android device.
Once installed, launch the app and then carefully place your hand in front of your device. Make sure that it fits in the center. The app will then give you a confirmation by showing a check mark.
Next, just repeat the gesture you made in the previous step. Again, you will get a check mark if the gesture that you're making is correct. Make sure that you're making an open hand gesture. Just follow the on-screen guide.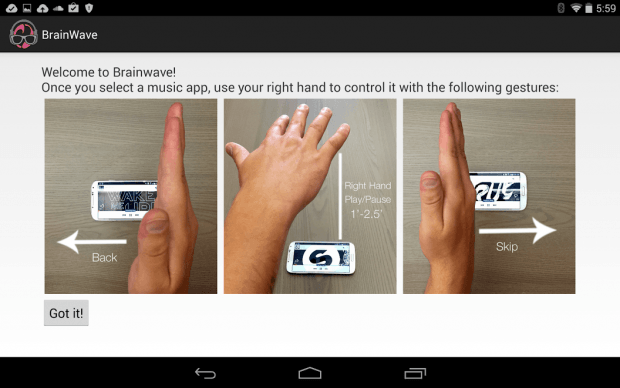 By placing your open hand at least 12 inches above your device camera (front camera), you can pause a music that you're playing on your device.
Moving on, you can just swipe your hand to the right to play the next song. If you swipe your hand to the left, you can play the previous song.
So once everything is all set, just let the app run in the background then launch your preferred music app or music player.
Do the swipe gestures above to pause or play the previous/next song.
It's that simple.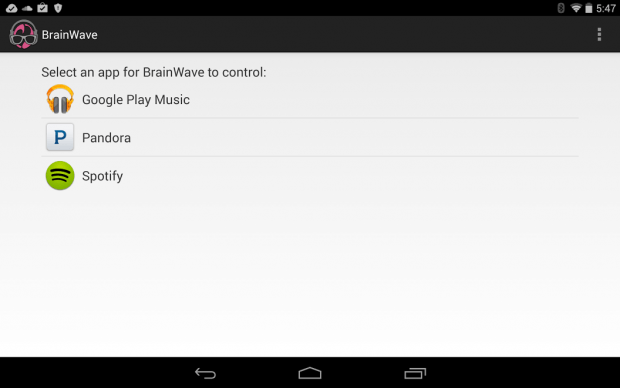 With BrainWave Music Control, you can use gesture controls for a wide range of music apps including Spotify, Google Play Music, Pandora, PowerAmp, MusicXMatch, etc.
You can even use gesture controls while your device screen is on sleep mode.
So go ahead and try it out.
Related Posts