An EPS file is basically a vector-based image file that is made using Adobe Illustrator. It is a common format for making logos. Speaking of which, you don't really need to have Illustrator just to view an EPS file.
One of the easiest ways to view an EPS file is to convert it to JPG format. So if you have the JPG format of the file, you can easily view it on your computer or web browser. No need to install a third-party file viewer.
How to convert an EPS file to JPG online
To get started, you need to click here and open the homepage of "Online Convert EPS to JPG" on your web browser.
Next, click the "Choose File" button to select and upload your EPS file from your computer. So make sure that you already have your EPS file ready. Remember, an EPS file has a file extension of .eps (ex. imagesample.eps).

After you select your EPS file, select the JPG format in the next step.

Click "Convert" to proceed.
Wait until the online file converter is finished converting your EPS file to JPG. Depending on how large your file is, the total conversion time can last for a few seconds to a few minutes.
Once done, you will get a preview of your converted EPS file. You can resize your file or simply opt to download it directly to your computer.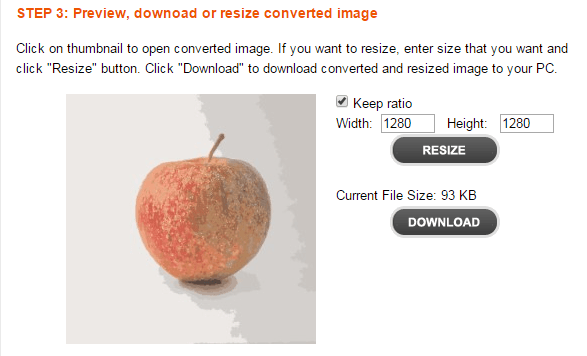 Just click the "Download" button to download and save your converted file as JPG.
That's it. You're done.
On the other hand, you can also use the same converter to convert your EPS file to another format such as PNG, GIF, BMP or TIFF. The process is basically the same. Just do not forget to select the correct file format.
Related Posts