Whenever you select a page from the Bookmarks menu, the menu closes. It would be better if the menu stayed open so that you can then select to open multiple pages without reopening it. As such, the Stay-Open Menu add-on keeps that menu open when you select bookmarks.
To add the extension to Firefox, open this page and press the + Add to Firefox button. Then you should also restart the browser. If the menu bar is not at the top of the browser window, click Open menu > Customize > Shot/Hide Toolbars and Menu Bar.
Then click Bookmarks to open the menu below. Next, select to open some bookmarks from that menu by middle-clicking. Alternatively, hold the Ctrl button and select to open some pages. Then the Bookmarks menu will remain open so that you can open multiple pages.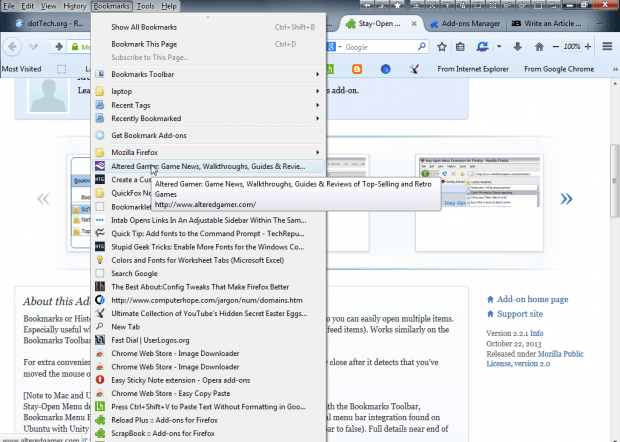 You can select further add-on options by clicking Open menu > Add-ons. Then press the Options button beside the Stay-Open Menu add-on to open the window below. There you can select various additional options for the menu such as Close when mouse moves off menu. Then the menu will close when you move the mouse off it.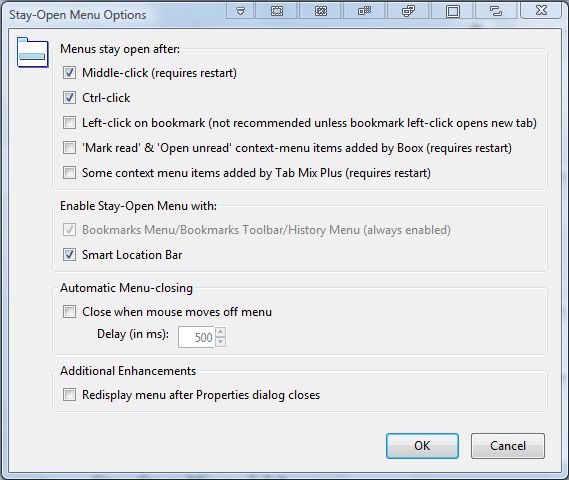 So this add-on facilities opening multiple items from the Bookmarks menu. It also works much the same on the History menu. You can find further details at the Stay-Open Menu website.
Related Posts