Global hotkeys are very useful especially if you like listening to music through various online music players. With global hotkeys, you can use the same hotkeys for various playback commands regardless if you're listening to music via Spotify, YouTube, SoundCloud, 8tracks, Bandcamp, etc. It's a very convenient option especially if you're the type who doesn't like to recall a lot of keyboard controls.
How to set global hotkeys for various online music players in Chrome
In Chrome, here's how you can set global hotkeys for various online music players (music streaming services):
First, download and install the "Streamkeys" browser extension for Chrome.
After installing the extension, you can either use its default global hotkeys or configure your own.
By default, Streamkeys provide the following default global hotkeys:

Play/Pause: Media key play/pause
Play Next: Media key next
Play Previous: Media key previous
Mute: Ctrl + Shift + 9

If you want to change or update these hotkeys, just go to Chrome's extensions page. Click the menu button next to Chrome's address bar, find "More Tools" > "Extensions".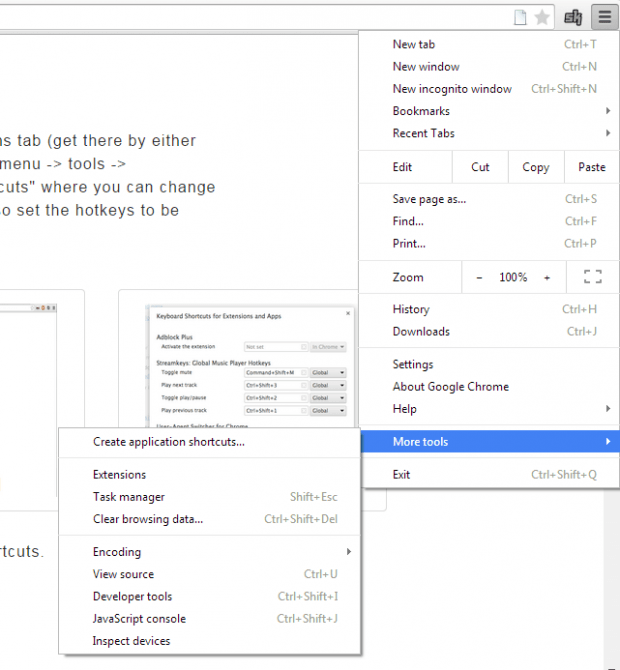 Next, scroll down to the bottom part of the extensions list. Find and click "Keyboard shortcuts".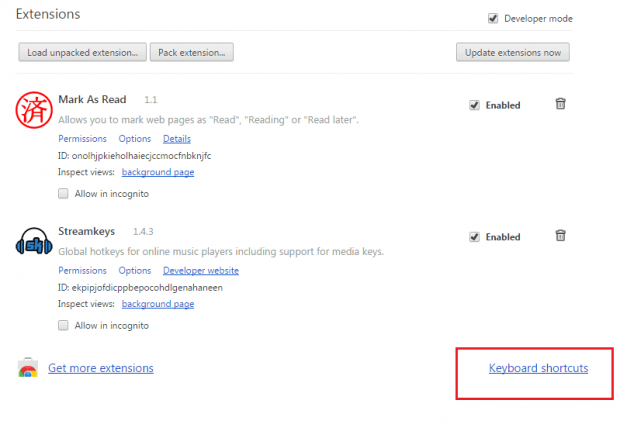 On the keyboard shortcuts window, look for the "Streamkeys" section then change the keyboard controls. Click "Ok" to save the changes.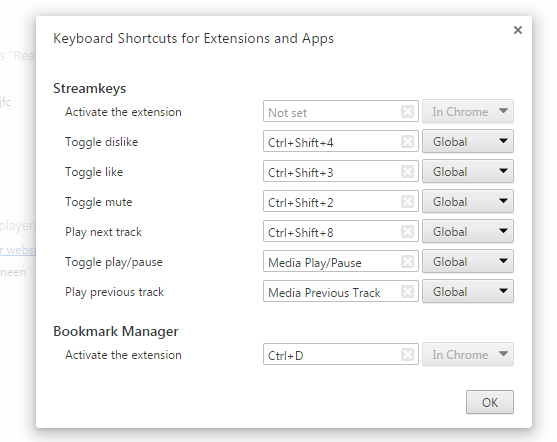 That's it. You may now close the Chrome extensions page. Open a new tab then go to a particular online music streaming site such as YouTube, SoundCloud or Spotify.
Load a song or playlist then use the global hotkeys provided by Streamkeys. It's that simple.
As of now, the browser extension currently supports the following online music players:
7digital
8tracks
Amazon Music
AmbientSleepingPill
Bandcamp
Beats Music
Cubic.fm
Deezer
Di.fm
Disco.io
Earbits
Google Play
Grooveshark
iHeartRadio
Jango
MixCloud
NPR Infinite Player
OPlayer
Pandora
Plex
PocketCasts
Radio Swiss Jazz
RadioParadise
Rainwave.cc
Rdio
Slacker
Songstr
Songza
Soundcloud
Spotify
Stitcher
TheHypeMachine
TheSixtyOne
TuneIn
VK
Yandex
YouAreListeningTo
YouTube
Related Posts