In Chrome, you can easily bookmark posts and pages. However, you cannot quickly identify the pages that you've already read. You cannot also mark pages as "read later". Unfortunately, such feature isn't available in Chrome. If you want to mark web pages as unread, read or read later, you'll need to find a workaround and that's what this post is all about.
How to mark web pages as read or read later in Chrome
Open or launch Chrome from your computer.
Next, download and install a free browser extension called "Mark As Read".
After installing the extension, it will automatically add its icon to your browser's address bar. Do take note that the extension will display different icons according to the pages that you visit.
Moving on, just open a new tab and visit any page that you want.
If it's your first time visiting the page, the extension will display the unread icon on your browser's address bar.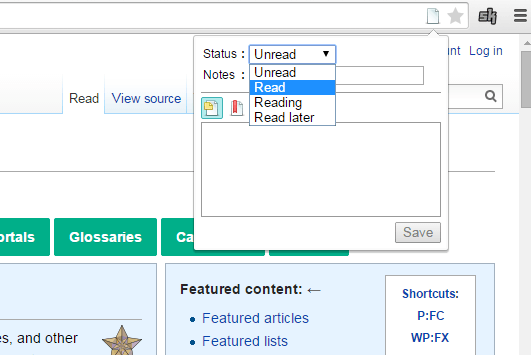 After you're done reading the page, just click the icon then change the status to "Read".
If you want to read the page for later, just change the change the status to "Read Later".
With Mark as Read, you can also change the status of the page to "Reading". You can even add notes if you want.
Click "Save" to confirm.
That's it. You may close the page and reload it whenever you want.
Just refer to the icon on the address bar to know the status of the page that you're visiting.
With Mark As Read, you can easily know the status of your bookmarked pages. It's a very useful tool especially if you're doing a lot of online research. So go ahead and try it out.
Related Posts