Creating a narrated presentation isn't as difficult as what you think. It's basically adding a narration or voice-over to your slides. You can do it in PowerPoint. If you don't have PowerPoint, you can choose to create a narrated presentation online.
How to create a narrated presentation online
Click here to open the homepage of "Presentious" on your web browser.
Once you're on Presentious, click the "Sign in" button at the top of the page. The web app will then ask you to sign in using your Google or Twitter account. You can also try the web app without signing in.
After which, you will be taken to the page where you'll need to upload your presentation. Just click the "Select a Presentation" button to upload your file. You can upload your presentations in Powerpoint (.ppt, .pptx), Keynote (.key), OpenDocument (.odp) or Adobe PDF (.pdf) formats.

After uploading your presentation, you will need to allow the web app to access your computer's microphone.
Now, you're ready to add your narrative or voice-over.

Just press the "Start presenting" button at the bottom of the slide and then speak as you move from one slide to another. To move slides, you can either use the arrow keys or simply click the slide on the screen.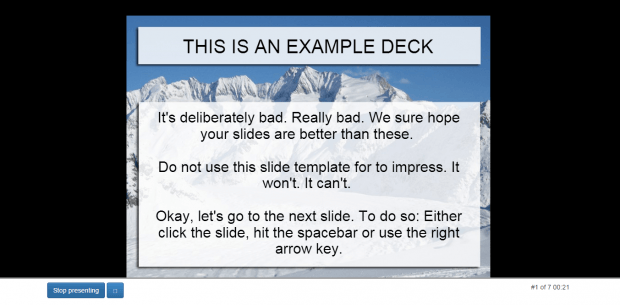 Once you're done with your presentation, press the "Esc" key and then click "Stop presenting".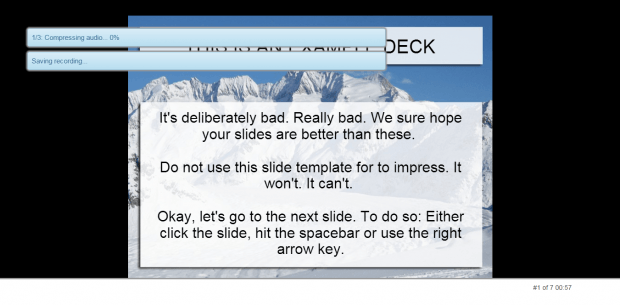 Wait while the web app saves your recording. Once done, you can rerecord your presentation or view the output file.
That's it. Just copy the link of the file from your browser's address bar then share it to your presentation viewers.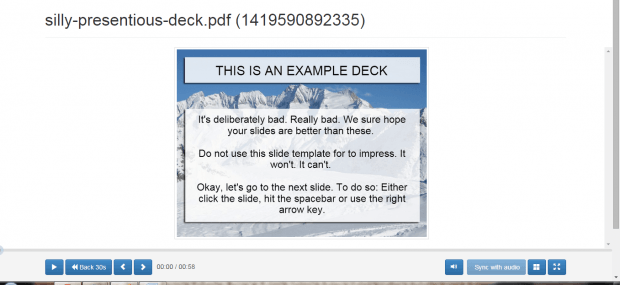 When viewing the presentation, your narrative will also be loaded together with your slides.
One of the advantages of using Presentious is that your viewers can easily download and save the slides as they listen and watch your presentation. It will help them focus more on your presentation instead of diverting their attention on other software or apps.
Related Posts