When it comes to sending large files, you will never run out of choices. As a matter of fact, it's all up to you to choose the service that you want. You can choose to avail free or paid plans. There are also online file sharing services that lets you send and share large files on the fly.
Speaking of which, DropSend is another online file sharing service that lets you send large files of up to 4GB. It's suitable for sending large files via email plus it is secured with 256 AES encryption.
How to securely send large files of up to 4GB with DropSend
First, click here to go to the DropSend homepage.
Once you're on its homepage, scroll down the page until you see the send file section.
Fill out the required fields. Enter your email as well as the email of your recipient.

Next, click "Select a File" to upload the file that you wish to send. You can send JPG files, PDF files, ZIP files, video files, etc.
Once done, you may also fill out the optional fields for the email subject and message.
Click the large "Send Your File" button to confirm. Wait while your file is being uploaded. Do not close the tab or reload the page.

After which, you will get a confirmation message. You may check the status of the files that you've sent by clicking the link provided.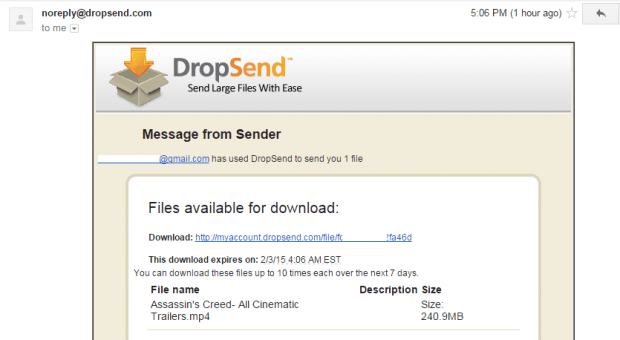 Once sent, your recipient will get an email notification together with the download link. By default, your recipient will be given 7 days to download the file. The file can be downloaded up to 10 times during the download period. After which, the download link will automatically expire.
That's it. Do keep in mind that if you're a free user, you are limited to sending a maximum of 5 files per month. If you want to increase your sending limit, you may upgrade to a paid plan.
Related Posts