If you think that you've already made the most out of Twitter, then how about listening to your tweets mixed with pop, rock or alternative music? You can think of it as listening to your favorite radio FM station. You get to listen to your tweets as well as the tweets of others as if they're being read by a DJ on a radio.
If you're curious to know how it works, then go ahead and read this post.
How to listen to tweets mixed with music in Chrome
First, download and install the "The Social Radio for Twitter" app for Chrome.
After installing the app, launch it. It will open a new tab on your browser.
Next, log in to the app using your Twitter account.
Once you're logged in, you'll see a dashboard. You'll then have the option to play and listen to your timeline and top timeline tweets. That's not all. You can also use lists, trending topics and hashtags to listen to your tweets mixed with music. If you want to use a particular hashtag (ex. #quotes), just use the app's built-in search function.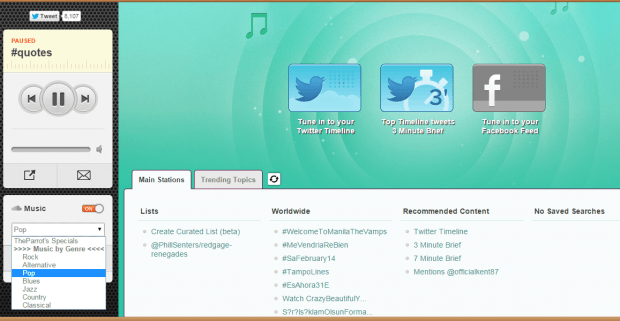 Moving on, just click the play button on the player to listen to your tweets as they're being read out loud. The music will also be mixed along with your tweets.
If you want, you can also change the music genre and even the song itself.
While listening to your tweet, you can do other things such as reading book, writing a poem, etc.
That's it. You can just close the The Social Radio for Twitter app tab once you're done.
Related Posts